DIY
Many decorations are expensive and not that stylish to being worth your attention. With the tricks featured in this tutorial, you can make your own custom piece of decoration. Read the following and learn how to transfer a photo to wood and actually make a nice `painting` to place in your living room.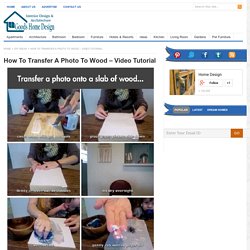 How To Transfer A Photo To Wood - Video Tutorial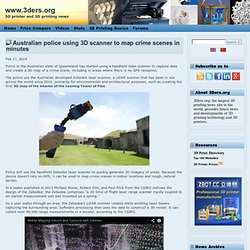 Feb.17, 2014
Australian police using 3D scanner to map crime scenes in minutes
MàJ 17/11/2013 Voici une série d'astuces et de bidouilles pour dépanner, détourner, contourner, faciliter la vie de l'électronicien, voire même sauver la vie du bricoleur !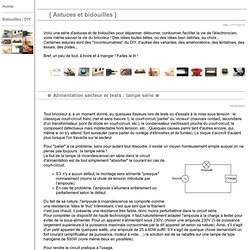 Astuces et bidouilles      [ PafGadget ]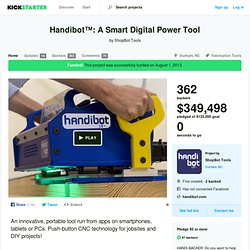 Handibot™: A Smart Digital Power Tool by ShopBot Tools
A Handibot tool is a new kind of portable, digitally-controlled power tool for cutting, drilling, carving, and many other machining operations– a first Universal Digital Power Tool (UDPT) – or just, a Smart Tool. If you're familiar with industrial CNC (computer numerically controlled) equipment, think of the Handibot tool as a portable version of CNC. But instead of taking material to a stationary machine, you bring the Handibot to your material -- your jobsite, your remodeling task, your project, your work. You can put your Handibot tool to work on a table, the floor, the ceiling, the wall, wherever you need to precisely cut, drill, or carve. Armed with a software application developed just for the kind of job you need to do, a Handibot tool is ready to go to work on your job, task, or project with a squeeze of the "Start" button. If you are not familiar with CNC technology, think of the Handibot Smart Tool as a "3-D Cutter."
Machines laser, plasma, fraiseuses numériques, impression 3d - gravure, découpe, marquage - Boutique
The Laser Cutter Roundup — a weekly dose of laser-cut love: #114 Hey, Sam here collecting the post from The Laser Cutter . Make sure you join TLC's Facebook page .
Laser cut way finding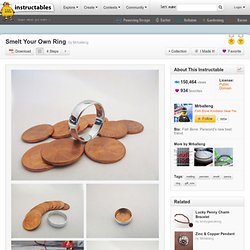 !!!Caution!!! Melting pennies will release Zinc Oxide fumes which cause flu-like symptoms including fever, chills, nausea, headache, fatigue, muscle aches, joint pains, shortness of breath, chest pain, and cough.
Smelt Your Own Ring
L'agence de recherche et développement du Pentagone donne des subventions à des projets issus de la communauté des hackers, ces adeptes de la bidouille créative. Mitch Altman, figure respectée du milieu, vient d'annoncer publiquement son désaccord. Un petit pavé dans la mare qui oblige la communauté à se positionner, entre considérations morales, financières et patriotiques. Petit coup de tonnerre dans la communauté hackers/makers, ces adeptes de la bidouille créative : Mitch Altman, gourou respecté du DIY (Do it yourself, fais-le toi-même), co-fondateur du hackerspace de San Francisco Noisebridge, a déclaré publiquement sur la mailing list de hackerspaces.org qu'il ne participerait pas au Maker Faire, LE raout annuel des makers qui avait rassemblé 100 000 personnes lors de sa dernière édition en Californie. En cause, ce qu'il considère comme une compromission de Maker Faire avec la Defense Advanced Research Projects Agency (Darpa), l'agence de recherche et développement du Pentagone :
Des hackers séduits par le Pentagone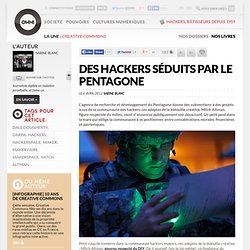 "We are all makers" (Nous sommes tous des artisans). Le credo de Dale Dougherty, fondateur de Make Magazine et de Maker Faire, le plus grand événement dédié au mouvement "makers", est en passe de devenir le nom de référence d'une communauté extrêmement diverse et dynamique, en pleine expansion. Derrière ce sigle rassembleur, inventé par Make Magazine il y a plus de 10 ans au sein même d'O'Reilly Media, géant de l'édition orientée techno fondée par Tim O'Reilly l'un des gourous de l'internet à l'origine du concept de Web 2.0, on trouve une idée clé : il faut encourager la créativité individuelle car elle est porteuse de plus de conscience et responsabilité sociale, comme l'exprimait Dale Dougherty sur la scène de TED.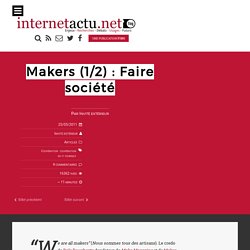 scribbler_robot
Mitch Altman, 55ans, prince des hackers au beau visage serein, est de passage en France. Après des rencontres à Rennes, la semaine dernière, il est ce mardi à Paris. Gourou du fer à souder, maître des bidouilleurs, référence absolue des fondateurs de hackerspaces, Mitch Altman incarne comme personne la Freeculture. Mitch Altman au Chaos Communication Camp, Berlin, Août 2011 Quand il était petit, Mitch Altman ne s'aimait pas.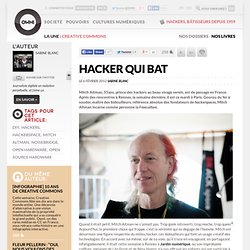 Hacker qui bat