CodingTools
What is GNU? GNU is a Unix-like operating system that is free software—it respects your freedom. You can install versions of GNU (more precisely, GNU/Linux systems) which are entirely free software. What we provide. The GNU Project was launched in 1984 to develop the GNU system. The name "GNU" is a recursive acronym for "GNU's Not Unix!".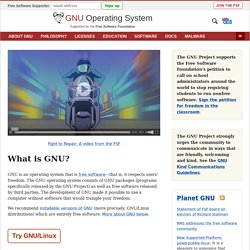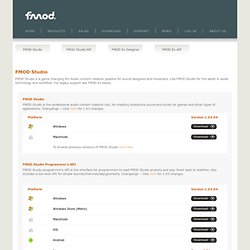 fmod - interactive audio middleware
FMOD Ex is the older generation technology used in thousands of commercial titles. Go here to get up to date builds that are still maintained for existing platforms and titles. Use FMOD Studio if you want to be up to date with the latest in audio technology and workflow. FMOD Ex Designer FMOD Designer is a tool that allows sound designers to create complex, multi-layered audio events. Changelogs – Click here for 4.44 stable branch changes.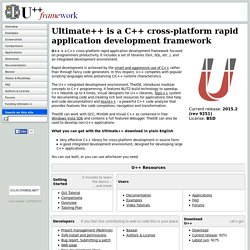 U++ is a C++ cross-platform rapid application development framework focused on programmers productivity. It includes a set of libraries (GUI, SQL, etc..), and an integrated development environment. Rapid development is achieved by the smart and aggressive use of C++ rather than through fancy code generators.
Ultimate++ is a C++ cross-platform rapid application development framework :: Ultimate++
Ultimate++ forum: Welcome to the forum