Web Design
Best PSD Freebies - The Ultimate Photoshop Resource for Web Design. IconDock - The Art of Stock Icons. 15 Web Design Trends to Watch Out For in 2012. So far the year 2011 has brought upon some amazing changes in design and Internet technology.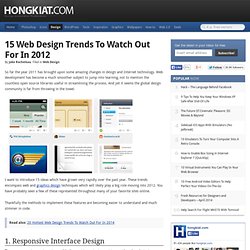 Web development has become a much smoother subject to jump into learning, not to mention the countless open source libraries useful in streamlining the process. And yet it seems the global design community is far from throwing in the towel. I want to introduce 15 ideas which have grown very rapidly over the past year. These trends encompass web and graphics design techniques which will likely play a big role moving into 2012. Web Design Trends in 2012. It's that time of year again, where we look into our crystal ball to see what will be the hot trends in web design for the upcoming year.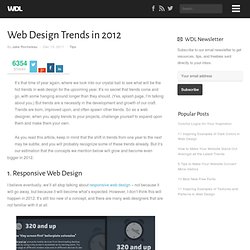 It's no secret that trends come and go, with some hanging around longer than they should. (Yes, splash page, I'm talking about you.) Premium & Free Design and Web Resources | Pixeden. Ui Parade – User Interface Design Inspiration. The Layout Lab PSD UI Kits. 27 Must-Have Starter Kits For Web Designers. Starter kits are great timesavers for web designers and they are particularly useful for those who often create mock-ups for project pitching on daily basis.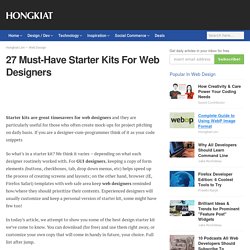 If you are a designer-cum-programmer think of it as your code snippets So what's in a starter kit? We think it varies – depending on what each designer routinely worked with. 20 Free Price Tags PSD | Pricing Templates. Slyd. Slyd is an easy-to-use, highly-customizable slider plugin for WordPress.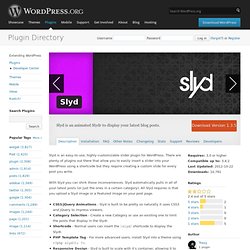 There are plenty of plugins out there that allow you to easily insert a slider into your WordPress using a shortcode but they require creating a custom slide for every post you write. With Slyd you can shirk those inconveniences. Slyd automatically pulls in all of your latest posts (or just the ones in a certain category). All Slyd requires is that you upload a Slyd image or a Featured image on your post page.
30 FREE Stylish and Decorative Ribbons, Stickers and Badges PSD for Web Designers. PixelsDaily | Free PSDs & Resources for Designers. Welcome to the Icon Deposit - Icon Deposit. FreeUIKits.com | Free UI Kit PSD FilesFreeUIKits.com. 45 Best UI Web elements with Source Files. 30 Free UI Kits Featuring Detailed Web Elements. Simply Pixels. Free Photoshop Download - Photoshop Downloads - Download Free PSD Files - Free PSD Files - Templates - Free PSD Website Elements and More!
35 High Quality PSD UI Web Design Elements. 33 FREE Well-Designed Navigation Menu PSD. Startup Framework Close 2011, Sep 27 // Kevin Liew // 4 comments // Web Design 33 FREE Well-Designed Navigation Menu PSD Advertisement Introduction Our 5th series of free psd file, we have collected 33 free psd menu layout.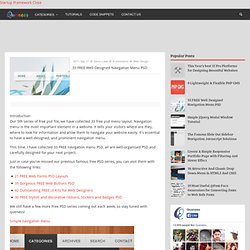 Best Free Textures and Patterns of 2010 | Freebies (Build 20120614114901) It's no secret that we love textures and patterns here at WDL.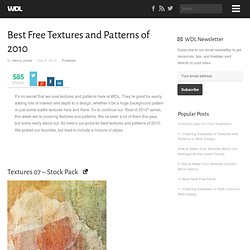 They're great for easily adding lots of interest and depth to a design, whether it be a huge background pattern or just some subtle textures here and there. So to continue our "Best of 2010″ series, this week we're covering textures and patterns. Web Icon Set - Offers Professionally Designed Web Icons and Stock Icons. Icon sets & stock icons (Build 20120312181643) Free web design resources & layered PSD files on Freebies Booth (Build 20120312181643) 20 Free Subtle Textures for Backgrounds | Design Woop | The Web Design and Development Blog (Build 20120312181643) Subtle Patterns | Free textures for your next web project (Build 20120312181643)
Design Kindle | Free Premium Web Design Resources (Build 20120312181643) CSS, HTML, jQuery, CSS3, HTML5, Web Design Tips, Tutorials and Resources | The Web Design and Development Blog - Design Woop. (Build 20120312181643) Resources for designers, Photoshop Add-ons, Web Elements, Graphics. Web Design Blog, Tutorials and Inspiration | Web Design Ledger.
Free PSDs & Resources for Web Designers by Orman Clark. Gesturecons - Icons For Multi-Touch Interfaces. PSDFAN - Adobe Photoshop Tutorials, Design Articles and Resources. 90 Content Slider PSD Templates. Digg Sharedigg Content sliders are extremely useful.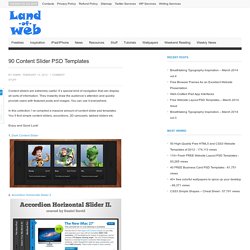 It`s special kind of navigation that can display all sorts of information. They instantly draw the audience's attention and quickly provide users with featured posts and images. You can use it everywhere. Premium Graphic Design Resources. Free Design Resources & PSD Files by Awesome Designers. Designmoo - A community for discovering and sharing free PSDs, vectors, textures, patterns, fonts, and more. 365psd | Download a free PSD every day. Weekly Fresh Web Design Freebies – Vol. 5 (2-8-2011) Digg Our special weekly collection of fresh valuable freebies.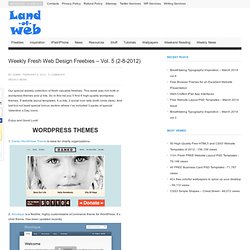 This week was rich both in wordpress themes and ui kits. So in this list you`ll find 4 high-quality wordpress themes, 5 website layout templates, 6 ui kits, 2 social icon sets (both circle style). And last but not least special bonus section where I`ve included 3 packs of special Valentine`s Day icons.
Aurove Design Studio | Stock graphics, add-ons, actions, layer styles and PSD website templates for Photoshop.
---