Ale.viggiani
Errore caricamento pagina
Woork Up
Confirmed: Fleshlight Developing an iPad Case You Can Have Sex With
La primavera del 2010 è stato un periodo caldo come pochi per il lavoro in Cina. Tra aprile e maggio, la serie di suicidi tra i dipendenti della Foxconn di Shenzhen (vedi su Linkiesta: Nella fabbrica degli iPhone è proibito anche suicidarsi) e lo sciopero dei lavoratori della Honda di Foshan hanno riportato ancora una volta all'attenzione dell'opinione pubblica cinese e internazionale la questione delle condizioni di lavoro nella "fabbrica del mondo". Eppure, a differenza di quanto si era letto in occasione dei grandi scandali del lavoro in Cina del passato, questa volta il discorso dominante sui media e nell'accademia ha assunto una prospettiva completamente differente: finalmente, invece che della dimensione "passiva" dello sfruttamento, si è cominciato a discutere dell'aspetto "attivo" della lotta e della resistenza da parte dei lavoratori.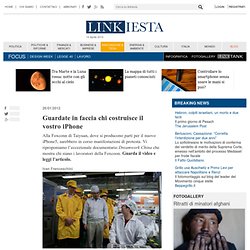 Guardate in faccia chi costruisce il vostro iPhone
Gentlemans Emporium -- Victorian Clothing for Men and Women
Quando la pirateria fa bene
Sigaretta elettronica forum, guide, informazioni, rivenditori - Svapo.it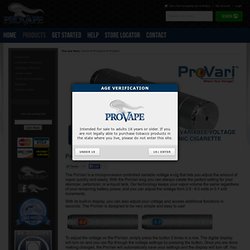 ProVari Variable Voltage Ecig: Best Variable Voltage E Cig Available!
The ProVari is a microprocessor controlled variable voltage e-cig that lets you adjust the amount of vapor quickly and easily. With the ProVari ecig you can always create the perfect setting for your atomizer, cartomizer, or e-liquid tank. Our technology keeps your vapor volume the same regardless of your remaining battery power, and you can adjust the voltage from 2.9 - 6.0 volts in 0.1 volt increments. With its built-in display, you can also adjust your voltage and access additional functions in seconds.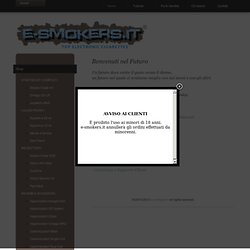 Benvenuti nel Futuro Un futuro dove esiste il gusto senza il danno, un futuro nel quale ci sentiamo meglio con noi stessi e con gli altri.
Manutenzione straordinaria atomizzatore eGo-T - Video - e-smokers.it
Others Flavours
Ready e-liquids - Inawera Flavors
Omega Starter Kit eGo-T Tank NR Manuale Bianco
Ovale eGo-Tank - Ovale shop - esig-shop Rivenditore ufficiale Ovale | Agosto, Novi, Vendita, Ligure, Ultimo
Ovale Italia - Sigarette elettroniche
MyTALK - Personalize and Update Your Jawbone ERA, ICON or JAMBOX
UGG® Australia | Boots, Shoes, Slippers & Apparel
Google Plus Nick
+me - Create your Google+ profile picture
Accesso utilizzando le password specifiche per le applicazioni - Guida di Google Account
Tutti i film usciti nelle sale cinematografiche nel 2011. le schede dei film del 2011 con dettagli sul cast, trama, recensioni, approfondimenti e trailer. Benvenuto a bordo Francia, 2011 di Eric Lavaine con Valerie Lemercier , Gerard Darmon , Luisa Ranieri Isabelle, dirigente di una grande compagnia marittima, ha commesso l'errore di scegliere per amante il suo titolare. Prima di imbarcarsi nella crociera inaugurale della flotta, la donna decide di cambiare radicalmente la sua vita e mette gli occhi su Rémy, animatore appena assunto,...
Tutti film anno per anno
colonna vertebrale049.jpg (Immagine JPEG, 942x1200 pixel)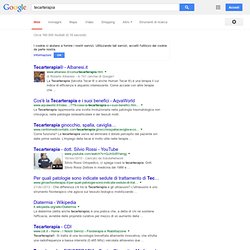 Informazioni su questa pagina I nostri sistemi hanno rilevato un traffico insolito proveniente dalla rete del tuo computer. Questa pagina verifica se sei davvero tu che stai inviando le richieste e non un robot. A che cosa è dovuto? Questa pagina viene visualizzata quando Google rileva automaticamente delle richieste provenienti dalla rete del tuo computer che apparentemente violano i Termini di servizio. Il blocco scadrà quando tali richieste saranno terminate.
tecarterapia
L'iPhone è uno strumento eccezionale che permette di fare veramente un infinità di cose tra cui anche navigare online. E ora ti mostrerò in che modo puoi proteggendo così sia la tua identità che le tue attività. La prima raccomandazione che ti faccio è di le varie applicazioni, i vari browser o i vari stratagemmi che trovi descritti online, perché come il servizio che andrò a rivelarti visto che ti permetterà di navigare completamente anonimo utilizzando un indirizzo ip diverso da quello attualmente in uso. Prima di spiegarti la voglio rassicurarti sul fatto che navigare anonimi sul web se questo viene fatto per proteggere la propria privacy e i propri dati personali. Diventa illegale invece quando utilizzerai il tuo anonimato per fare attività come Hacker o per fare truffe online.
ANONIMI CON l'IPHONE - Come Navigare Anonimi con l'iPhone | NAVIGARE ANONIMI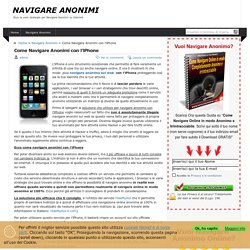 Glossario russo-italiano di parolacce
Блядь (f) [bljad']: 1. donna di costumi leggeri, svergognata, scostumata, facile, « calda ». Il significato storico del termine è « menzogna, eresia, errore » (ed a tale titolo viene utilizzato in testi religiosi!), per estensione, una donna uscita dalla retta via. Пессимисты думают, что все женщины — бляди, оптимисты на это надеются. 2. insulto, per descrivere qualcuno al quale s'attribuiscano le qualità (o le mancanze) d'una donna simile a quella descritta al punto 1. 3.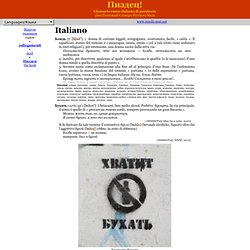 Accesso Negato
Accesso Negato
Accesso Negato
how do I swear in russian from insults.net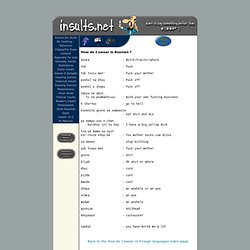 How do I swear in Russian ? Sooka - Bitch/traitor/whore Yob - Fuck
Accesso Negato
The word "pizdetz" (пиздец) is attributed to "Russian mat", a sort of Russian slang which is based on sexual content an is commonly banned from official use as well as considered inappropriate for use in conversation by general rules of conduct. The Administrative Code of Russian Federation even sets a fine for public use of "mat", though this sanction is purely formal and its use is seldom. "Pizdetz" is originally derived from the word "pizda", which is a "mat" term for vagina. "Pizdetz" may carry different meanings.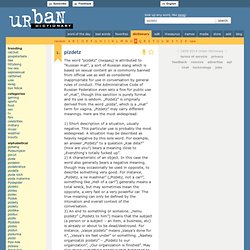 pizdetz
news
La Voce della Russia
italiano) | Il meglio della stampa europea
Linkiesta.it
dagospia
storie, idee e persone che cambiano il mondo. - Wired.it
Hello, Alessandro Viggiani
Florence + The Machine – Scopri musica, video, concerti, statistiche e immagini su Last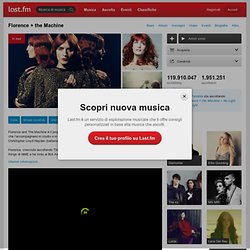 Florence and The Machine è il progetto musicale di Florence Welch in collaborazione con altri musicisti che l'accompagnano in studio e in tour. La formazione attuale comprende Robert Ackroyd (chitarra), Christopher Lloyd Hayden (batteria), Isabella Summers (tastiere) e Tom Monger (arpa). Florence, cresciuta ascoltando The White Stripes e Kate Bush, è stata segnalata nel 2008 tra le next big things di NME e ha vinto ai Brit Awards 2009 il Critics Choice Award, premio per i nuovi talenti emergenti.
Twitter