Sides
Just Like The Restaurant.... Crab Rangoon Recipe - Chinese.Food.com - 44240. Parmesan Spread — Our Life In The Kitchen. This stuff is addictive when you slather it on crusty slices of Italian bread.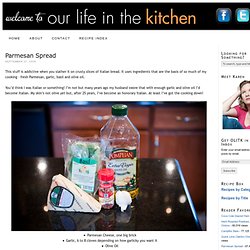 It uses ingredients that are the basis of so much of my cooking – fresh Parmesan, garlic, basil and olive oil. You'd think I was Italian or something! Chocolate Chip Cheesecake Dip & Slice & Dice. 6 Oct This dip might put me into rehab.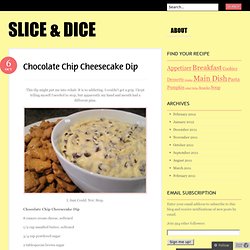 It is so addicting. French Fries: The No-Guilt Version. There's nothing like a french fried potato.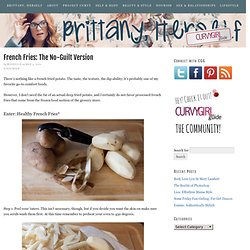 The taste, the texture, the dip-ability; it's probably one of my favorite go-to comfort foods. However, I don't need the fat of an actual deep fried potato, and I certainly do not favor processed french fries that come from the frozen food section of the grocery store. Enter: Healthy French Fries* Italian Grilled Cheese. Who doesn't love a good grilled cheese?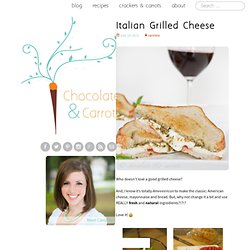 And, I know it's totally Ameeeerican to make the classic: American cheese, mayonnaise and bread. But, why not change it a bit and use REALLY fresh and natural ingredients?!?!? Love it! There's nothing more delicious than fresh and homemade ingredients. Parmesan Roasted Potatoes.
Ricotta and Lemon-Basil Pasta - Recipes. Yunhee Kim Ingredients 8 ounces uncooked pasta, such as seashell or campanelle 1 cup (8 ounces) part-skim ricotta cheese 1 teaspoon grated lemon rind 1 tablespoon fresh lemon juice 1/4 cup chopped fresh basil 3/4 teaspoon salt 1/2 teaspoon pepper Lemon wedges (optional) Preparation 1.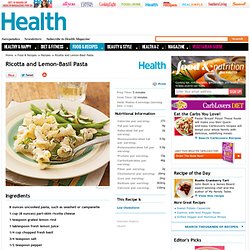 Cook the pasta according to package directions. Penguins in Party Hats. Cut a wedge out of the large olive and eat the slice; you deserve a treat after all that hat making.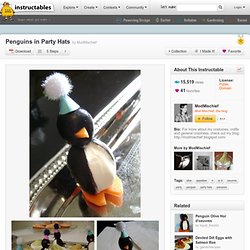 Stuff the olive with cream cheese and smooth it down with a knife or your finger. For a ruffled tuxedo shirt, you could pipe in the cheese with an icing bag. Cut a small triangle out of the carrot, this will be your penguin's beak and the remainder will be his feet. Make a small incision in the little olive and insert the carrot beak to complete the head. Pizza Swirl Bread. I have good news and bad news.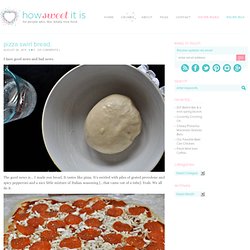 The good news is… I made you bread. It tastes like pizza. Roasted Garlic Soup with Parmesan Cheese Recipe at Epicurious.com. Preparation Preheat oven to 350°F.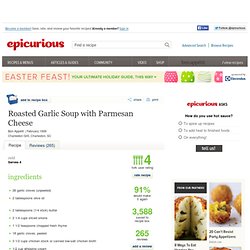 Place 26 garlic cloves in small glass baking dish.
---