Fun/Other
How Do I Melt Ice If The Store Is Out Of Salt? VirtualEternity. Startpagina. 10 Boredom-Busting USB Desk Toys. Let's face it, unless you're an astronaut or a rock star, work is pretty darn dull most of the time.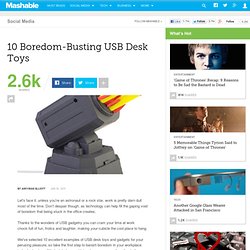 Don't despair though, as technology can help fill the gaping void of boredom that being stuck in the office creates. Thanks to the wonders of USB gadgetry you can cram your time at work chock-full of fun, frolics and laughter, making your cubicle the cool place to hang. We've selected 10 excellent examples of USB desk toys and gadgets for your perusing pleasure, so take the first step to banish boredom in your workplace today by having a little look below, and let us know your own favorites in the comments. 1. USB Whack It. Diablo III hakt er op los als nooit tevoren. Voor veel fans van de Diablo franchise is het al een aantal jaren geduldig wachten op het derde deel.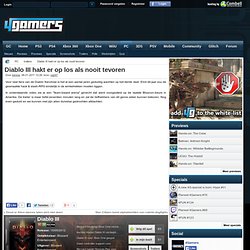 Eind dit jaar zou de gesmaakte hack & slash-RPG eindelijk in de winkelrekken moeten liggen. In onderstaande video zie je een "team-based arena" gevecht dat werd voorgesteld op de laatste Blizzcon-beurs in Amerika. De trailer is maar liefst zeventien minuten lang en zal de liefhebbers van dit genre zeker kunnen bekoren. Nog even geduld en we kunnen met zijn allen duivelse gedrochten afslachten. Help. Berliner Philharmoniker | Digital Concert Hall.
---