Philippine military funds scandal probe
Ateneo backs whistle-blowers in AFP corruption scandals - Nation - GMANews.TV - Official Website of GMA News and Public Affairs - Latest Philippine News. The Ateneo de Manila University is set to hold a noise barrage on Friday afternoon in support of Heidi Mendoza, a former government auditor who followed the money trail left by former miitary comptroller Carlos F.
Garcia, who is facing a multimillion plunder suit. An advisory from Ateneo's University Communications and Public Relations said the protest is also in support of other whisteblowers in corruption scandals currently hounding the Armed Forces of the Philippines and its former chiefs of staff. Rabusa bares how creative corruption in AFP was.
MANILA, Philippines?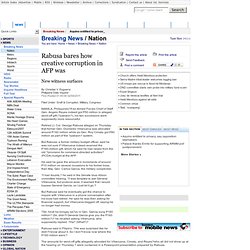 If ex-Armed Forces Chief of Staff Gen. Angelo Reyes indeed got P50 million in alleged send-off gift (? Filing of plunder charges vs Ligot up to Ombudsman - Palace | The Philippine Star >> News >> Headlines. CEBU, Philippines - Dennis Trillo earned his first acting trophy for his portrayal of a cross-dressing spy in the Japanese occupation-era movie "Aishite Imasu" under Regal Films.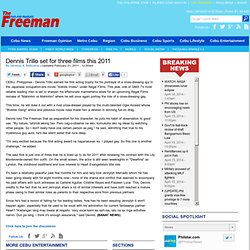 This year, one of GMA 7's most reliable leading men is set to sharpen his effeminate mannerisms anew for an upcoming Regal Films remake of "Mahinhin vs Mahinhin" where he will once again portray the role of a cross-dressing gay. This time, he will duke it out with a rival cross-dresser played by the multi-talented Ogie Alcasid whose "Bubble Gang" antics and previous movie roles made him a veteran in donning full-on drag.
Jacinto Ligot
'P270-M AFP fund missing' | The Philippine Star >> News >> Headlines. New witness testifies on military corruption | ABS-CBN News | Latest Philippine Headlines, Breaking News, Video, Analysis, Features. MANILA, Philippines - A former aide of former military comptrollers appeared before the Senate on Thursday attesting to the widespread corruption in the Armed Forces of the Philippines (AFP).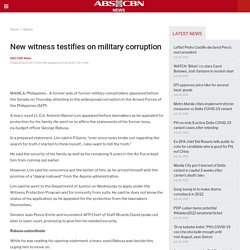 A teary-eyed Lt. Col. 'Wife of ex-military comptroller has 2 houses in US' | ABS-CBN News | Latest Philippine Headlines, Breaking News, Video, Analysis, Features. MANILA, Philippines - The wife of former military comptroller Jacinto Ligot bought 2 houses in the United States worth over US$687,000 (approximately P30 million) while Ligot was still in active service, a Senate investigation revealed Monday.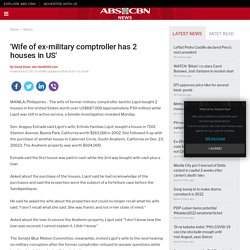 Sen. Jinggoy Estrada said Ligot's wife, Erlinda Yambao Ligot, bought a house in 7102 Stanton Avenue, Buena Park, California worth $183,168 in 2002. She followed it up with the purchase of another house in Cabernet Circle, South Anaheim, California on Dec. 23, 20023. The Anaheim property was worth $504,000. Estrada said the first house was paid in cash while the 2nd was bought with cash plus a loan. BusinessWorld Online Edition |Lawmakers to further pursue military fund scandal probe. Documents confirm Ligot owned 2 houses in US | ABS-CBN News | Latest Philippine Headlines, Breaking News, Video, Analysis, Features. 'AFP diverted P2.4-billion UN fund' | The Philippine Star >> News >> Headlines. Palace backs Cimatu's appearance at Congress' probe on AFP corruption. MANILA, Philippines?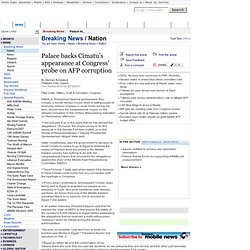 Special ambassador Roy Cimatu, a former Armed Forces chief of staff accused of receiving millions of pesos in slush funds during his term, should face the congressional inquiry on the alleged corruption in the military, Malacañang indicated on Wednesday afternoon. ? I did just pick it up in the news that he has denied the allegations. Of course, the proper venue to do this would be in the Senate if he was invited, or in (the House of Representatives),? 'Military converted P179-B fund under GMA' | The Philippine Star >> News >> Headlines. I'm not a horological expert, not even an aficionado, but I think it's safe to say that along with a man's car and shoes, his wristwatch is an instant identifier of his station in life.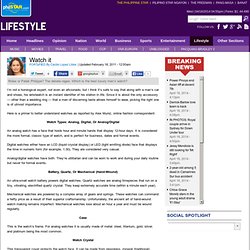 Since it is about the only accessory — other than a wedding ring — that a man of discerning taste allows himself to wear, picking the right one is of utmost importance. Here is a primer to better understand watches as reported by Alex Muniz, online fashion correspondent: Watch Types: Analog, Digital, Or Analog/Digital. Noy to grace PMA alumni homecoming today | The Philippine Star >> News >> Headlines. MANILA, Philippines – Pagkakaroon ng pagkakataon na mabalik sa business sector ang ibinigay na dahilan ni Noli Eala sa bigla­ang paghahain ng liham ng pagbibitiw bilang executive director ng Samahang Basketbol ng Pilipinas (SBP).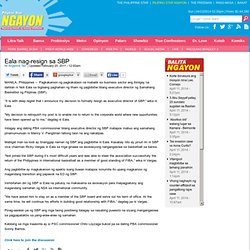 "It is with deep regret that I announce my decision to formally resign as executive director of SBP," wika ni Eala "My decision to relinquish my post is to enable me to return to the corporate world where new opportunities have been opened up to me," dagdag ni Eala. Inilagay ang dating PBA commissioner bilang executive director ng SBP matapos mabuo ang samahang pina­mumunuan ni Manny V.