L'OTAN et la question nucléaire en Europe
Global Security Newswire - NATO to Call For Retention of Nuclear Deterrent. PrintShareEmailTwitterFacebookLinkedIn NATO's new strategic concept, to be issued at this week's summit in Portugal, is set to support fielding a ground-based antimissile system in Europe but also call keeping the alliance's nuclear weapons in place for the time being, the Washington Post reported (see GSN, Nov. 8).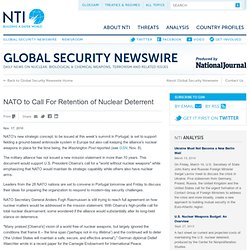 The military alliance has not issued a new mission statement in more than 10 years. This document would support U.S. President Obama's call for a "world without nuclear weapons" while emphasizing that NATO would maintain its strategic capability while others also have nuclear arms. Leaders from the 28 NATO nations are set to convene in Portugal tomorrow and Friday to discuss their ideas for preparing the organization to respond to modern-day security challenges. Persee.fr - Politique étrangère, Année 1991, Volume 56, Numéro. U.S. Nuclear Weapons Withdrawn From the United Kingdom » FAS Str. .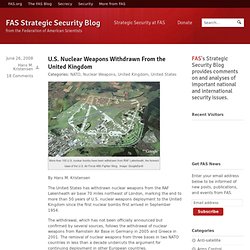 By Hans M. Kristensen. Joint Statement by President Obama and President Medvedev.