L'OTAN et la question nucléaire en Europe
Global Security Newswire - NATO to Call For Retention of Nuclear Deterrent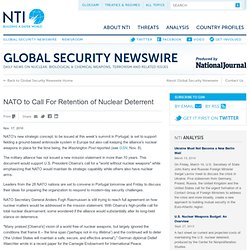 Print Share
persee.fr - Politique étrangère, Année 1991, Volume 56, Numéro
. By Hans M.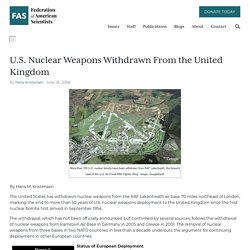 U.S. Nuclear Weapons Withdrawn From the United Kingdom » FAS Str
Les armes nucléaires de l'OTAN - fin de partie ou
Où l'on découvrira que les État-Unis ont dénucléarisé certains sites européens sans que cela n'émeuve grand monde. Et où l'on apprendra quelles sont les différentes options nucléaires pour les pays européens. by alcide Mar 31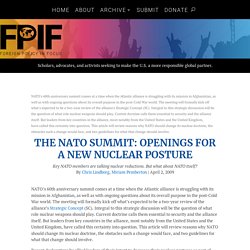 NATO's 60th anniversary summit comes at a time when the Atlantic alliance is struggling with its mission in Afghanistan, as well as with ongoing questions about its overall purpose in the post-Cold War world. The meeting will formally kick off what's expected to be a two-year review of the alliance's Strategic Concept (SC). Integral to this strategic discussion will be the question of what role nuclear weapons should play.
The NATO Summit: Openings for a New Nuclear Postur
2009-04-02 les paradoxes de la volonté de dénucléariser by alcide Apr 3
Topics: Daily Coverage
Joint Statement by President Obama and President Medvedev
Devrions-nous éspérer que cela ne soit pas un premier avril ? by alcide Apr 8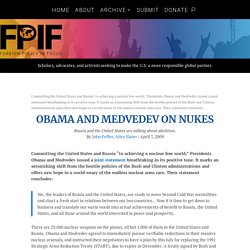 Foreign Policy In Focus | Obama and Medvedev on Nukes - Mozilla
We, the leaders of Russia and the United States, are ready to move beyond Cold War mentalities and chart a fresh start in relations between our two countries... Now it is time to get down to business and translate our warm words into actual achievements of benefit to Russia, the United States, and all those around the world interested in peace and prosperity.