Indonesia's first sex tape scandal
Anti-porn MP caught on sex websites - World news, News
Sex scandal titillates Indonesians
Nazriel 'Ariel' Irham and Luna Maya on a Jakarta billboard. Picture: AFP Source: AFP AN internet porn scandal involving a starlet who once interviewed Hillary Clinton on live television, another celebrity with links to Australia and the male singer in a fantastically successful teen pop band has erupted in Indonesia. At least two explicit sex videos are circulating widely, with ordinary Indonesians so captivated they are watching them on mobile phones in offices and while travelling on public buses.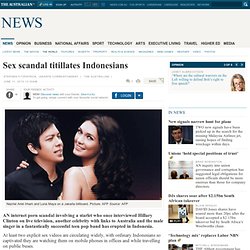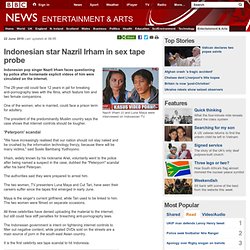 Indonesian star Nazril Ariel in sex tape probe
22 June 2010Last updated at 04:55 ET Nazril Irham (r) and Luna Maya were interviewed on Indonesian TV Indonesian pop singer Nazril Irham faces questioning by police after homemade explicit videos of him were circulated on the internet.
"We have increasingly realised that our nation should not stay naked and be crushed by the information technology frenzy, because there will be many victims," said Susilo Bambang Yudhoyono. ... by alcide Jun 22
Heru Andriyanto & Farouk Arnaz With legal experts questioning the grounds for any prosecution, police said on Wednesday that the two women seen in sex videos with singer Nazril "Ariel" Irham would soon be named suspects and arrested, pending the results of physical examinations.
Sex-Tape Women in Police Sights, but Experts Doubt Basis for Cha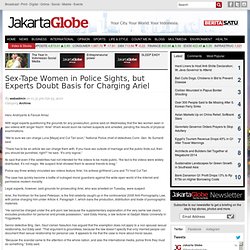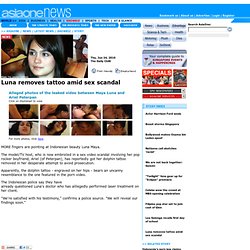 Luna removes tattoo amid sex scandal
MORE fingers are pointing at Indonesian beauty Luna Maya. The model/TV host, who is now embroiled in a sex video scandal involving her pop rocker boyfriend, Ariel (of Peterpan), has reportedly got her dolphin tattoo removed in her desperate attempt to avoid prosecution. Apparently, the dolphin tattoo - engraved on her hips - bears an uncanny resemblance to the one featured in the porn video. The Indonesian police say they have already questioned Luna's doctor who has alllegedly performed laser treatment on her client.
Indonesia sex tape star is jailed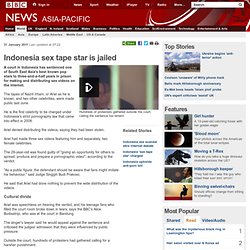 31 January 2011Last updated at 02:22 ET Hundreds of protesters gathered outside the court, calling the sentence too lenient A court in Indonesia has sentenced one of South East Asia's best known pop stars to three-and-a-half years in prison for making and distributing sex videos on the internet. The tapes of Nazril Irham, or Ariel as he is known, and two other celebrities, were made public last June.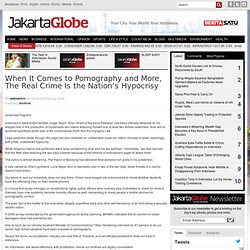 Johannes Nugroho
When It Comes to Pornography and More, The Real Crime Is the Nat
The plain fact of the matter is that Indonesia, despite superficial piety and other self-delusions, is far from being a sexually ascetic nation. "A 2008 survey conducted by the government agency for family planning, BKKBN, indicated that 63 percent of urban teenagers have had premarital sex. And, to boot, as our morally excellent Minister of Communications Tifatul Sembiring informed us, 97 percent of all our senior high school students have been exposed to pornography. " by alcide Jun 24