Indonesia's first sex tape scandal
Anti-porn MP caught on sex websites - World news, News. 11 April 2011 A photographer saw the man, a member of the staunchly Islamic Prosperous Justice Party, gazing at the porn sites last Friday.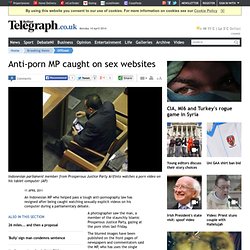 The blurred images have been published on the front pages of newspapers and commentators said the MP, who has uses the single name Arifinto, should be prosecuted under the terms of the law which he helped pass. Arifinto, 50, has apologised to his constituents and said he is stepping down from parliament immediately. Sex scandal titillates Indonesians. Nazriel 'Ariel' Irham and Luna Maya on a Jakarta billboard.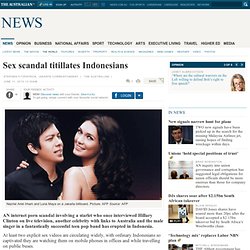 Picture: AFP Source: AFP AN internet porn scandal involving a starlet who once interviewed Hillary Clinton on live television, another celebrity with links to Australia and the male singer in a fantastically successful teen pop band has erupted in Indonesia. At least two explicit sex videos are circulating widely, with ordinary Indonesians so captivated they are watching them on mobile phones in offices and while travelling on public buses. Indonesian star Nazril Ariel in sex tape probe. 22 June 2010Last updated at 09:55 Nazril Irham (r) and Luna Maya were interviewed on Indonesian TV Indonesian pop singer Nazril Irham faces questioning by police after homemade explicit videos of him were circulated on the internet.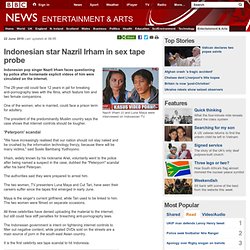 Sex-Tape Women in Police Sights, but Experts Doubt Basis for Cha. Heru Andriyanto & Farouk Arnaz With legal experts questioning the grounds for any prosecution, police said on Wednesday that the two women seen in sex videos with singer Nazril "Ariel" Irham would soon be named suspects and arrested, pending the results of physical examinations.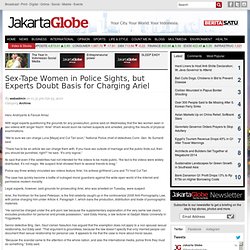 "We're sure we can charge Luna [Maya] and Cut Tari soon," National Police chief of detectives Comr. Gen. Ito Sumardi said. "There has to be an article we can charge them with. Luna removes tattoo amid sex scandal. MORE fingers are pointing at Indonesian beauty Luna Maya.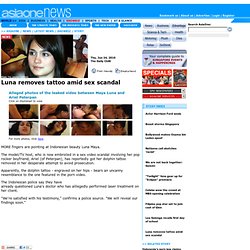 The model/TV host, who is now embroiled in a sex video scandal involving her pop rocker boyfriend, Ariel (of Peterpan), has reportedly got her dolphin tattoo removed in her desperate attempt to avoid prosecution. Apparently, the dolphin tattoo - engraved on her hips - bears an uncanny resemblance to the one featured in the porn video. The Indonesian police say they have already questioned Luna's doctor who has alllegedly performed laser treatment on her client. Indonesia sex tape star is jailed. 31 January 2011Last updated at 07:22 Hundreds of protesters gathered outside the court, calling the sentence too lenient A court in Indonesia has sentenced one of South East Asia's best known pop stars to three-and-a-half years in prison for making and distributing sex videos on the internet.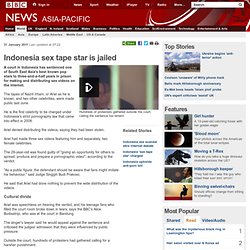 The tapes of Nazril Irham, or Ariel as he is known, and two other celebrities, were made public last June. When It Comes to Pornography and More, The Real Crime Is the Nat. Johannes Nugroho Indonesia's latest enfant terrible, singer Nazril "Ariel" Irham of the band Peterpan, has been officially detained for his alleged role in the production of homemade sex videos featuring himself and at least two female celebrities.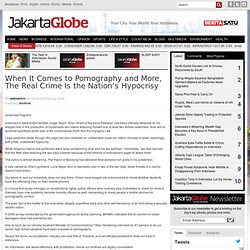 Ariel will no doubt be sacrificed at the altar of the controversial 2008 Anti-Pornography Law. Legal polemics aside, though, the saga has also revealed an undesirable mask our nation chooses to wear, seemingly with pride: unabashed hypocrisy. While religious clerics and politicians were busy condemning Ariel and his sex partners' "immorality," we also learned that the Web sites featuring the sex clips crashed because of the millions of Indonesians eager to watch them.