Hockey
Hockey : la France s'offre le Canada aux Championnats du monde. Le petit monde du hockey a subi un tremblement de terre, ce vendredi.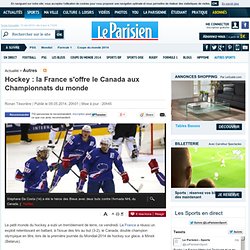 La France a réussi un exploit retentissant en battant, à l'issue des tirs au but (3-2), le Canada, double champion olympique en titre, lors de la première journée du Mondial-2014 de hockey sur glace, à Minsk (Belarus). Les Bleus, emmenés par leur gardien vétéran de la NHL Cristobal Huet impérial (34 arrêts) et un Stéphane Da Costa flamboyant (2 buts), confirment la montée en puissance du hockey français, alors qu'ils disputent au Belarus leurs septièmes championnats du monde consécutifs.
Déjà, il y a un an jour pour jour, lors du Mondial 2013, ils avaient fait sensation en renversant le géant russe (2-1). Les hommes du sélectionneur Dave Henderson peuvent désormais espérer mieux que sauver leur peau parmi l'élite. Hockey Fights, Stats, Reviews and Trading. Mario Lemieux's Comeback: A Retrospective. On December 27, 2000, 10 years ago today, Mario Lemieux returned to the NHL as a player after three-and-a-half seasons in retirement.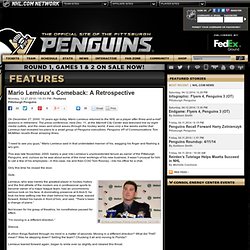 The press conference, held Dec. 11, at the Marriott City Center was televised live by eight media outlets, and the news sent shock waves through the hockey world. It was only a few weeks earlier that Lemieux had revealed his plans to a small group of Penguins executives. Hockey (RDS.ca) NHL on Yahoo! Sports - News, Scores, Standings, Rumors, Fantasy.
The Official Web Site - Pittsburgh Penguins - Firefox. Pittsburgh Penguins (pghpenguins) on Twitter - Firefox... Penguins Roster - Pittsburgh Penguins - Team.
---