Hockey
Hockey Fights, Stats, Reviews and Trading
Mario Lemieux's Comeback: A Retrospective - Pittsburgh Penguins - Features
On December 27, 2000, 10 years ago today, Mario Lemieux returned to the NHL as a player after three-and-a-half seasons in retirement. The press conference, held Dec. 11, at the Marriott City Center was televised live by eight media outlets, and the news sent shock waves through the hockey world. It was only a few weeks earlier that Lemieux had revealed his plans to a small group of Penguins executives.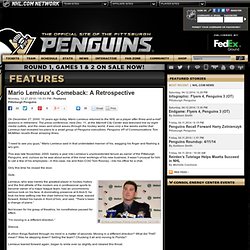 NHL on Yahoo! Sports - News, Scores, Standings, Rumors, Fantasy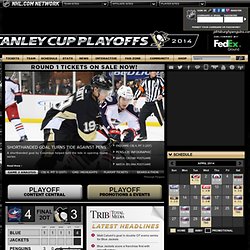 pittsburghpenguins.com is the official website of the Pittsburgh Penguins. The Pittsburgh Penguins and pittsburghpenguins.com are trademarks of Lemieux Group, LP. NHL, the NHL Shield, the word mark and image of the Stanley Cup and the word mark NHL Winter Classic are registered trademarks and NHL Stadium Series name and logo and the NHL Winter Classic logo are trademarks of the National Hockey League. NHL and NHL team marks are the property of the NHL and its teams. © NHL 2013.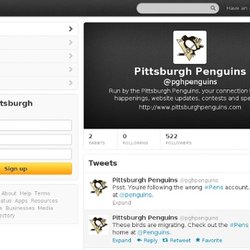 Pittsburgh Penguins (pghpenguins) on Twitter - Firefox
Language: English Bahasa Indonesia Bahasa Melayu
Penguins Roster - Pittsburgh Penguins - Team