Ahmadiyah
Indonesia pressured over Ahmadiyah Muslim sect killings. 8 February 2011Last updated at 09:20 A video made of the attack shows a mob attacking residents and inflicting vicious attacks Indonesia has been criticised by US groups and others after a murderous attack against supporters of the minority Ahmadiyah Muslim sect.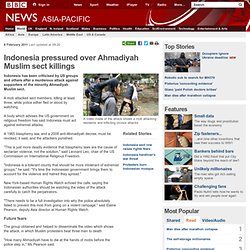 The Persecution of Indonesia's Ahmadi Muslims. Disband Ahmadiyah or Else, Hard-Liners Warn. Disband Ahmadiyah or Else, Hard-Liners Warn | February 19, 2011 More than 1,000 Islamic hard-liners gathered at an anti-Ahmadiyah rally in Jakarta on Friday, issuing fresh threats to topple the government if officials did not disband the minority Muslim sect.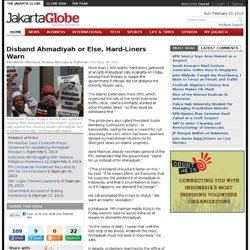 The Islamic Defenders Front (FPI), which organized the rally at the Hotel Indonesia traffic circle, claimed Ahmadis wanted all other Muslims dead, "so they must be eliminated first." The protesters also called President Susilo Bambang Yudhoyono a banci , or transvestite, saying he was a coward for not dissolving the sect, which has been deemed deviant by mainstream Muslims for its divergent views on Islamic prophets.
FPI threatens to topple Yudhoyono. The Islam Defenders Front (FPI) warns it will overthrow President Susilo Bambang Yudhoyono from government if he dares disband any mass organization, including FPI.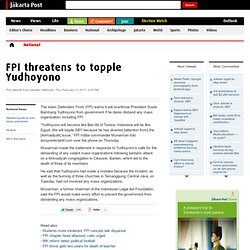 "Yudhoyono will become like Ben Ali of Tunisia. Indonesia will be like Egypt. Difference in doctrine not enough reason to disband Ahmadiyah. The government said it needed a stronger justification to disband Ahmadiyah than the fact that its doctrine was viewed by hardliners to "deviate" from orthodox Islam, a religious leader said Saturday.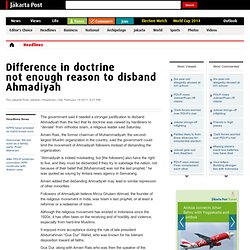 Amien Rais, the former chairman of Muhammadiyah, the second-largest Muslim organization in the country, said the government could limit the movement of Ahmadiyah followers instead of disbanding the organization. "Ahmadiyah is indeed misleading, but [the followers] also have the right to live, and they must be disbanded if they try to sabotage the nation, not because of their belief that [Muhammad] was not the last prophet," he was quoted as saying by Antara news agency in Semarang. Amien added that disbanding Ahmadiyah may lead to similar repression of other minorities.