Tutorials
20 Basic Illustrator Tutorials Every Beginner Should See. Learning a new software application can be a daunting task, especially when tackling an application that's as deep as Adobe Illustrator!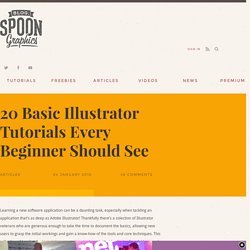 Thankfully there's a colection of Illustrator veterans who are generous enough to take the time to document the basics, allowing new users to grasp the initial workings and gain a know-how of the tools and core techniques. This collection of hand-picked tutorials cover various tools, and provide plenty of useful hints and tips. Together they form a super handy resource for any beginner looking to get their brains wrapped around Adobe Illustrator. 30 Illustrator Video Tutorials Every Designer Should See. Web Strategy Guidelines: Building A Website From Start to Finish. Whether you're a novice or veteran, the process of building a website is a complex task.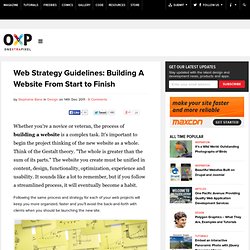 It's important to begin the project thinking of the new website as a whole. Think of the Gestalt theory. "The whole is greater than the sum of its parts. " The website you create must be unified in content, design, functionality, optimization, experience and usability. It sounds like a lot to remember, but if you follow a streamlined process, it will eventually become a habit. Design | Onextrapixel - Web Design & Development Online Magazine - Part 2. 3D Packaging. Adobe Illustrator Tutorials. Premium Illustrator Tutorials Learn the secrets of illustrator gurus with premium tutorials!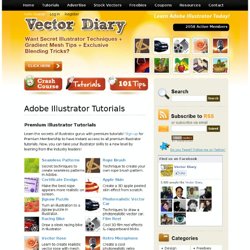 Sign up for Premium Membership to have instant access to all premium illustrator tutorials. Now, you can take your illustrator skills to a new level by learning from the industry leaders! Secret techniques to create seamless patterns in Adobe. Veerle's blog 2.0 - Archive summary. One of the questions I often get from readers is if I could write a tutorial on how to create a certain logo.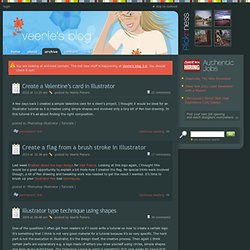 It's something that I think is not very good material for a tutorial because it's so very specific. The hard part is not the execution in Illustrator, it's the design itself, the creative process. Then again I think certain parts are explanatory e.g. a logo made of letters you draw yourself using circles, simple shapes and lines of equal thickness. Tutorials. Tutorials. I think you'll all agree that Illustrator is just plain awesome, and with the continual improvements we see with each new version, it keeps getting better and better.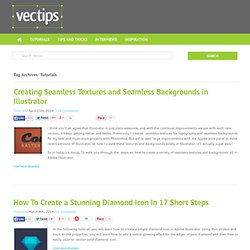 Previously, I created seamless textures for typography and seamless backgrounds for my web and illustration projects with Photoshop. But we've seen large improvements with the Appearance panel in more recent versions of Illustrator, so now I create these textures and backgrounds solely in Illustrator–it's actually super easy! So in today's tutorial, I'll walk you through the steps on how to create a variety of seamless textures and backgrounds all in Adobe Illustrator. Continue reading In the following tutorial, you will learn how to create a simple diamond icon in Adobe Illustrator.
---