Portale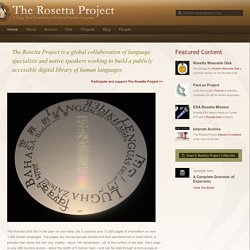 Participate and support The Rosetta Project >> The Rosetta Disk fits in the palm of your hand, yet it contains over 13,000 pages of information on over 1,500 human languages. The pages are microscopically etched and then electroformed in solid nickel, a process that raises the text very slightly - about 100 nanometers - off of the surface of the disk. Each page is only 400 microns across - about the width of 5 human hairs - and can be read through a microscope at 650X as clearly as you would from print in a book. Individual pages are visible at a much lower magnification of 100X.
The Language Database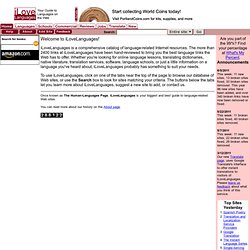 Welcome to iLoveLanguages! iLoveLanguages is a comprehensive catalog of language-related Internet resources. The more than 2400 links at iLoveLanguages have been hand-reviewed to bring you the best language links the Web has to offer. Whether you're looking for online language lessons, translating dictionaries, native literature, translation services, software, language schools, or just a little information on a language you've heard about, iLoveLanguages probably has something to suit your needs. To use iLoveLanguages, click on one of the tabs near the top of the page to browse our database of Web sites, or use the Search box to look for sites matching your criteria. The buttons below the tabs let you learn more about iLoveLanguages, suggest a new site to add, or contact us.
Ursprung und Entwicklung der Sprachen Sprachfamilien - Sprachvergleich - Sprachwandel Unbekanntes und Interessantes Und zugleich der Versuch, ein zu Unrecht als trocken bezeichnetes Gebiet unterhaltsam darzustellen. Interessantes z.B Sprachübertragung durch Buschtrommeln, Tonsprachen Englische Sprache Entwicklung, Einfluß des Latein. und Französischen, Denglish Schrift u. Schriftentwicklung Von der Keilschrift über die griech. Schrift zum modernen latein. Alphabet Gesamtübersicht Alle Seiten auf einen Blick (Sitemap) und Hinweise zur Navigation Neues Neue Beiträge auf der Homepage, Rezensionen, allgemeine Hinweise
Welt der Sprache - Sprachen der Welt