Technology
The Data-Crunching Powerhouse Behind 'Avatar' « Data Center Knowledge. A look at some of the high-density server and networking gear inside the Weta Digital data center used to render the animation for the new James Cameron movie "Avatar.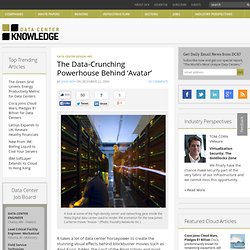 " (Photo: Foundry Networks Inc.) It takes a lot of data center horsepower to create the stunning visual effects behind blockbuster movies such as King Kong, X-Men, the Lord of the Rings trilogy and most recently, James Cameron's $230 million Avatar. Tucked away in Wellington, New Zealand are the facilities where visual effects company Weta Digital renders the imaginary landscapes of Middle Earth and Pandora at a campus of studios, production facilities, soundstages and a purpose-built data center. F.lux: software to make your life better. Future mobile phones Future technology. Mind you, this is not a "Green" concept and neither does it claim to be "Eco Friendly".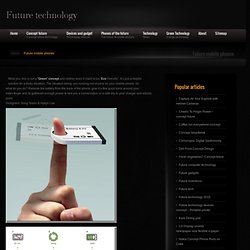 It's just a helpful solution for a tricky situation. The situation being: you running out of juice on your mobile phone. So what do you do? Happy Feet. H2Goo - Bathtime Fun. Category: Technology. More power, aggression to Bentley Continental GT Speed. | Cars world blog. Windows 7 GodMode. Yes you read it right, I know it seems like a joke, but guess what it's a reality.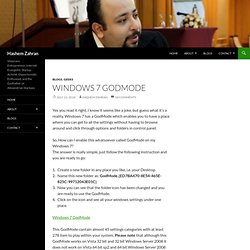 Windows 7 has a GodMode which enables you to have a place where you can get to all the settings without having to browse around and click through options and folders in control panel. So, How can I enable this whatsoever called GodMode on my Windows 7? Why I Returned My iPad - Peter Bregman. A little more than a week after buying the iPad, I returned it to Apple. The problem wasn't the iPad exactly, though it has some flaws. The problem was me. I like technology, but I'm not an early adopter. I waited for the second-generation iPod, the second-generation iPhone, and the second-generation MacBook Air. Dual Music Player That Plays Your MP3 Collection & Your CDs. Dual Music Player That Plays Your MP3 Collection & Your CDs You want to enjoy your audio CDs while traveling but you also have a huge MP3 collection at home that you want to take with you.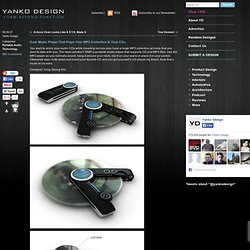 The ideal solution? DMP, a portable music player that supports CD and MP3 files. Use the MP3 player as you normally would, hang it around your neck, clip it on your jeans or place it in your pocket. Otherwise open both sides and insert your favorite CD and you got yourself a CD player my friend.
---