OnlineID
Ma présence sur le Web vous permet de recevoir des notifications lorsque vos données personnelles s'affichent sur le Web. Cette fonctionnalité sert à vous alerter lorsque vos informations personnelles, votre adresse e-mail ou votre numéro de téléphone notamment, sont publiées en ligne. Pour créer des alertes, procédez comme suit :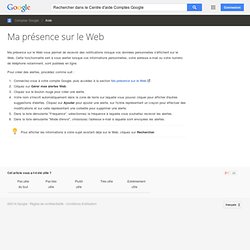 Ma présence sur le Web : Google Dashboard - Centre d'aide Comptes Google
Supprimer une page ou un site des résultats de recherche Google - Centre d'aide pour les webmasters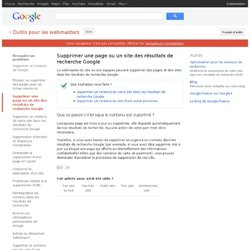 Le webmaster du site ou nos équipes peuvent supprimer des pages et des sites dans les résultats de recherche Google. Que se passe-t-il lorsque le contenu est supprimé ? Lorsqu'une page est mise à jour ou supprimée, elle disparaît automatiquement de nos résultats de recherche. Aucune action de votre part n'est donc nécessaire.
Set Up Google's Two-Step Verification Now for Seriously Enhanced Security for Your Google Account
The Easy, Any-Browser, Any-OS Password Solution
A Guide to Protecting Your Online Identity
Leah Betancourt is the digital community manager at the Star Tribune in Minneapolis, Minn. She is @l3ahb3tan on Twitter. Being online is like being in public. Nearly anything that gets posted can come back to haunt you. When you post it yourself, this isn't such a big deal — after all, it's your fault if you post something like the "fatty paycheck" tweet, the Twitter update that resulted in Cisco Systems Inc. revoking a job offer. Problems start when what's online isn't accurate, isn't yours, or worse, isn't yours anymore.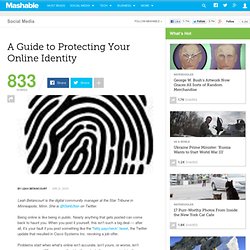 Google has introduced a tool that helps you manage search results for your name. The tool, "Me on the Web," is now included on the Google dashboard in between account information and analytics. It is not intended to be another privacy setting. "Your online identity is determined not only by what you post, but also by what others post about you — whether a mention in a blog post, a photo tag or a reply to a public status update," Google explains. SEE ALSO: 5 Ways to Clean Up Your Social Media Identity The new dashboard section encourages you to keep tabs on these mentions by setting up search alerts for data points included in your Google profile, like your name and email address.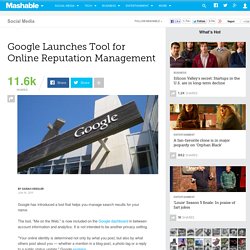 Keeping True Identity Online Becomes Battle
Luckily for me, I'm the only person with my name in the world, so if you Google my name, all the stuff you find is me, though it seems to consist of my Wikipedia page and a few newspaper articles. If I were to go through this process, I guess it would actually link to relevant information, but the problem is this — I don't really have any relevant information. Also, even if I were to do this, I wouldn't want to always use my real name when I'm online. There's a good reason I'm Platypus Man here and not my real name — I don't always want the two to be associated. When I comment here and elsewhere, you don't need to know who I really am and when I do things with my real name, those people don't need to know about Platypus Man. Sure, if you Google it, you could find the truth, but you'd basically have to be looking for it.
Establish and Maintain Your Online Identity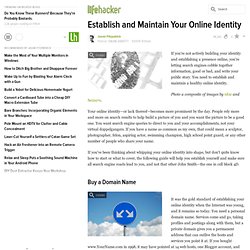 US Rolls Out Plan for Internet Identity
I understand that, but I have reservations about this for many reasons. From a security aspect, I fail to see how this will give me greater protection by having one hackable account; unless such a foolproof method of identity verification could be made. In other words; I understand that I may need to have a smart-card (not my phone - too misplaced), biometrics, or some other form of one location/ one person access; most will require new hardware. This in no way suggests that it cannot be easily hacked - especially if they are relying on information that I can purchase on anyone for 30.00 online.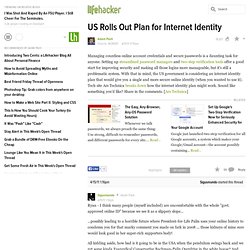 How to Delete Your Facebook Account