Playlists
► 5 Years Time by Noah and the Whale | The Happiest Playlist EVER!!! | heikidd17 | 8tracks. YOU broke up with ME. Now why the fuck won't you leave me alone, you ignorant bitch? I want songs by strong, beautiful women that will make me feel like a strong, beautiful woman, and not just the girl that got dumped. again.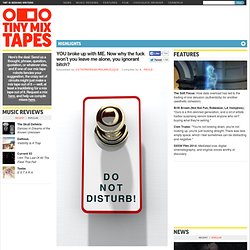 Requested by angela · Compiled by elle This may be a well chewed chestnut by now, but in my opinion Eleanor Roosevelt was one strong, beautiful woman who got it right: "Remember, no one can make you feel inferior without your consent." She also served hot dogs at the White House! 01. Ani DiFranco - "Not a Pretty Girl" (Not a Pretty Girl) 02.
Indie Shuffle. Stop Thinking | jas2kc | 8tracks.
---