Nginx
Nginx is a lightweight, high performance web server/reverse proxy and e-mail (IMAP/POP3) proxy. It runs on UNIX, GNU/Linux, BSD variants, Mac OS X, Solaris, and Microsoft Windows. According to Netcraft, 6% of all domains on the Internet use nginx webserver. Nginx is one of a handful of servers written to address the C10K problem. Unlike traditional servers, Nginx doesn't rely on threads to handle requests. Instead it uses a much more scalable event-driven (asynchronous) architecture.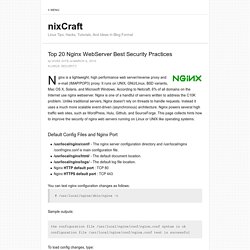 Top 20 Nginx WebServer Best Security Practices
Python est devenu assez à la mode, pour le développement web, ces dernières années avec l'arrivée de frameworks web comme Django, Pylons et web.py. On le voit souvent utilisé sur apache2, avec mod_python, ou sur des serveurs Python dediés à ça (CherryPy, etc) Je cherche depuis longtemps un moyen de faire du Python sur HTTP.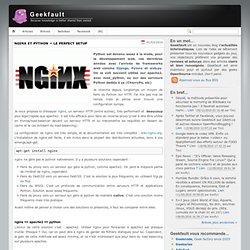 nginx et python – le perfect setup
Introduction to nginx
Si vous êtes l'heureux possesseur d'un site hébergé sur un serveur dédié, la popularité est une bonne chose mais peut vite s'accompagner d'autres inconvénients comme la saturation des ressources de votre serveur. La solution la plus simple est souvent de passer à une offre supérieure (et donc plus chère), mais cela peut être sans fin ou presque, et les migrations ne sont pas forcément une partie de plaisir. Modifier l'architecture est parfois une meilleure solution et permet de mieux profiter de son hébergement actuel sans trop d'efforts et sans surcoût. Si vous travaillez bien, vous pourrez en plus anticiper le passage à une architecture à plusieurs serveurs. Pourquoi mon serveur plante ? Le problème principal affectant les serveurs Web comme Apache est la quantité de RAM disponible sur le système.