GIS
Get flash to fully experience Pearltrees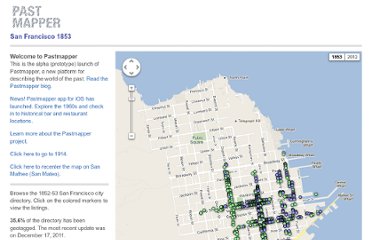 Welcome to Pastmapper This is the alpha (prototype) launch of Pastmapper, a new platform for describing the world of the past. Read the Pastmapper blog. News! Pastmapper app for iOS has launched. Explore the 1960s and check in to historical bar and restaurant locations.
Have you ever used the "Image Overlay" feature of Google Earth? Perhaps, as one of my professors did a few years ago, you want to add an old German military map of Stalingrad over the current city, or display a favorite old marked up map you have scanned up that has some key locations and annotations. Unless you have a GIS background and some experience working with powerful mapping software like ArcGIS or QGIS, you'll quickly discover that this is not really as easy as it seems.
The Karte des Deutschen Reiches 1893 consists of 674 sheets at a scale of 1:100,000. All sheets join together to make a huge, highly detailed and historically significant map of about 1,155 cm x 980 cm (38 ft x 32 ft), covering all of present day Germany and much of present day Poland. The maps show the landscape as it was at the end of the 19th century. We have completed the process of scanning all the sheets individually as well as making a very large digital composite image of all 674 sheets joined.
© Ian Gregory 2002 The right of Ian Gregory to be identified as the Author of this Work has been asserted by them in accordance with the Copyright, Designs and Patents Act 1988. All material supplied via the Arts and Humanities Data Service is protected by copyright, and duplication or sale of all or any part of it is not permitted, except that material may be duplicated by you for your personal research use or educational purposes in electronic or print form. Permission for any other use must be obtained from the Arts and Humanities Data Service .