Politics
Google's coup: The internet's first rule book • The Re. State of security operations The regulator's rule book for deciding what is permissible on today's roads is very thick indeed.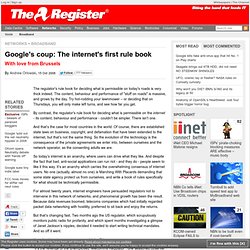 The content, behaviour and performance of "stuff on roads" is massive, and grows by the day. Is a social system founded upon individual rights. Barbaries, résurgences, résistances. Matthew Yglesias » Politics as a Vocation. By Matthew Yglesias on December 19, 2009 at 10:01 am Everyone thinking about health care or climate change or really any other major issue ought to take some time this weekend and read Max Weber's "Politics as a Vocation."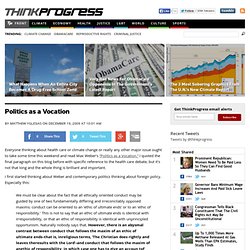 I quoted the final paragraph on this blog before with specific reference to the health care debate, but it's not that long and the whole thing is brilliant and important. Yglesias Reads Weber. Matt Yglesias, reflecting on the politics of the past few weeks, quotes from passages of Weber that I've quoted here many times.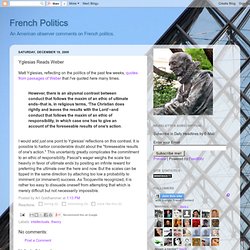 However, there is an abysmal contrast between conduct that follows the maxim of an ethic of ultimate ends–that is, in religious terms, 'The Christian does rightly and leaves the results with the Lord'–and conduct that follows the maxim of an ethic of responsibility, in which case one has to give an account of the foreseeable results of one's action. I would add just one point to Yglesias' reflections on this contrast. It is possible to harbor considerable doubt about the "foreseeable results of one's action. " "Des immigrés parfaits" I have been a student and observer of French politics since 1968.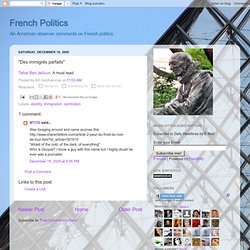 In that time I've translated more than 130 books from the French, including Tocqueville's Democracy in America. I chair the seminar for visiting scholars at Harvard's Center for European Studies and am a member of the editorial board of French Politics, Culture, and Society. You can read some of my writing on French politics and history here and a short bio here.
---