Musique 3
Flux RSS. Magnatune: license music and MP3 download. Bob Dylan: A Hard Rain's A-Gonna Fall. Esperanza Spalding - Jersey City, US - Jazz / Latin / Other - ww. Brad Paisley, When I Get Where I'm Going Lyrics. (Feat.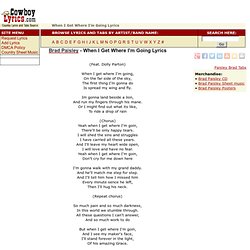 Dolly Parton) When I get where I'm going, On the far side of the sky, The first thing I'm gonna do Is spread my wing and fly. Im gonna land beside a lion, And run my fingers through his mane. Or I might find out what its like, To ride a drop of rain (Chorus) Yeah when I get where I'm goin, There'll be only happy tears. Esperanza Spalding: Voice of the Bass : NPR Music. Le blog de nato. Chandos Records. Steve Coleman: Download. Gérard Manset Lyrics. The Night Passage Jazz Podcast. Real Names of Hip Hop and R&B Artists.. Actors and Actresses. News blurbs . release dates . steam meter . extra butter movie reviews . interview . tags . clicks . wallpaper The Newest Additions 2 Chainz - Tauheed Epps ASAP Ferg - Darold Ferguson ASAP Rocky - Rakim Mayers ASAP Yams - Steven Rodriguez Astro - Brian Bradley Awkwafina - Nora Lum Chase N.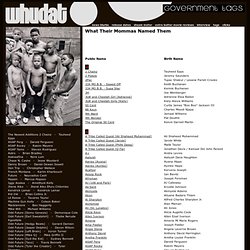 Cashe - Jesse Woodard Danny Brown - Daniel Dewan Sewell Don Trip - Christopher Wallace French Montana - Karim Kharbouch Future - Nayvadius Cash Hopsin - Marcus Hopson Iggy Azalea - Amethyst Kelly Jhene Aiko - Jhené Aiko Efuru Chilombo Kendrick Lamar - Kendrick Lamar Kid Ink - Brian Collins Jr. Antonypeters.co.uk The Mixdown Zone. Jazz Break. Official Site of Andreas Vollenweider & Friends. AfricanHipHopRadio.com - monthly African hip hop radio shows. Radio locator. Foobar2000.
---