Musique 3
http://www.myspace.com/grandbaton
Mike Keneally ( Frank Zappa ...): "Damn, "File" sounds fantastic. Congratulations, great stuff here!" Lyle Workman ( Sting , Alice Cooper ...): "every now and again, I'll find music that is really cool - this is one of those times.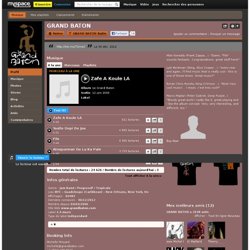 Flux RSS - Trip-Hop.net
Bob Dylan: A Hard Rain's A-Gonna Fall
Esperanza Spalding - Jersey City, US - Jazz / Latin / Other - ww
Brad Paisley, When I Get Where I'm Going Lyrics
(Feat. Dolly Parton) When I get where I'm going, On the far side of the sky, The first thing I'm gonna do Is spread my wing and fly. Im gonna land beside a lion, And run my fingers through his mane. Or I might find out what its like, To ride a drop of rain (Chorus) Yeah when I get where I'm goin, There'll be only happy tears.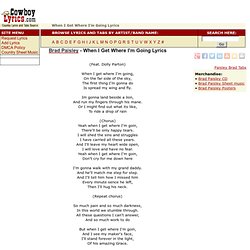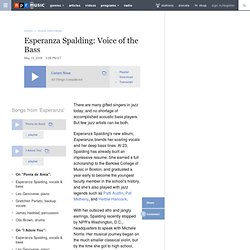 Esperanza Spalding: Voice of the Bass : NPR Music
On "Ponta de Areia":Esperanza Spalding, vocals & bassLeo Genovese, pianoGretchen Parlato, backup vocalsJamey Haddad, percussionOtis Brown, drumsOn "I Adore You":Esperanza Spalding, vocals & bassLeo Genovese, pianoGretchen Parlato, Otis Brown, Theresa Perez, backup vocalsJamey Haddad, percussionHoracio "El Negro" Hernandez, drums hide captionIn 2005, Esperanza Spalding signed on at the Berklee College of Music as an instructor — at the age of 20. Johann Sauty
Le pic de pollution (mi mars) a valu aux parisiens 3 jours + 1 de gratuité dans le métro (week-end + lundi pour qui aura saisi les annonces). Dès la reprise ("ça va comme un mardi !"), la pollution est retournée en vacance, l'actualité s'est branchée sur un autre sujet ("il faut être vif coco sinon les gens s'ennuient !") et les contrôleurs sont revenus dans le métro : "crack dedans ! ha ! ha !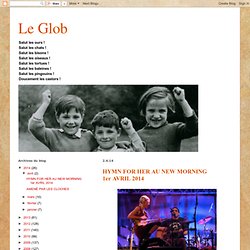 Le blog de nato
Chandos Records
Steve Coleman: Download
Gérard Manset Lyrics
The Night Passage Jazz Podcast
Real Names of Hip Hop and R&B Artists.. Actors and Actresses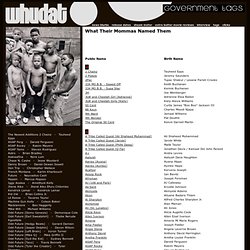 news blurbs . release dates . steam meter . extra butter movie reviews . interview . tags . clicks . wallpaper The Newest Additions 2 Chainz - Tauheed Epps ASAP Ferg - Darold Ferguson ASAP Rocky - Rakim Mayers ASAP Yams - Steven Rodriguez Astro - Brian Bradley Awkwafina - Nora Lum Chase N. Cashe - Jesse Woodard Danny Brown - Daniel Dewan Sewell Don Trip - Christopher Wallace French Montana - Karim Kharbouch Future - Nayvadius Cash Hopsin - Marcus Hopson Iggy Azalea - Amethyst Kelly Jhene Aiko - Jhené Aiko Efuru Chilombo Kendrick Lamar - Kendrick Lamar Kid Ink - Brian Collins Jr.
antonypeters.co.uk The Mixdown Zone
Jazz Break
Official Site of Andreas Vollenweider & Friends
AfricanHipHopRadio.com - monthly African hip hop radio shows
http://www.guitariste.com/articles/mbutu-grand-baton,888,1.html
Radio locator
foobar2000 is an advanced freeware audio player for the Windows platform. Latest news First, a big thank you to everyone who supported the foobar2000 mobile project so far. The foobar2000 mobile entry has been removed from kickstarter.com due to low popularity - only about 0.1% of the visitors actually supporting the project rather than the 1% we were hoping for; at this rate, donations made via kickstarter.com would never reach us as the lowest goal would not be hit. You can still support the project via our page directly - mobile.foobar2000.com. In case the lowest goal isn't met, we'll still try to deliver a product that satisfies all of those who did support us; just with fewer features than we were originally hoping to.