Jazz
Lyrics to the track: Triplexity - That Feeling
Guyana hosting jazz festival with a rainforest riff in 2012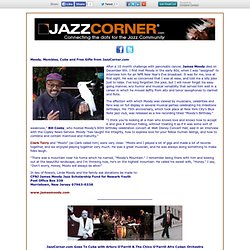 Moody, Mumbles, Cuba and Free Gifts from JazzCorner.com After a 10 month challenge with pancreatic cancer, James Moody died on December 9th. I first met Moody in the early 80s, when I was "assigned" to interview him for an NPR New Year's Eve broadcast. It was for me, love at first sight. He was so concerned that I was at ease, and told me a silly joke just to relax. I've long forgotten the joke, but I will never forget his easy going manner, wry humor and musical versatility that served him well in a career in which he moved deftly from alto and tenor saxophones to clarinet and flute.
Moody, Mumbles, Free Music & Cuba from JazzCorner.com
FM - Caribbean Jazz Project: One Step Ahead
JazzCorner InnerViews JazzCorner.com is proud to present JazzCorner.com Jazz Perspectives and JazzCorner.com InnerViews podcasts. The player should automatically begin with the latest InnerView or Perspective.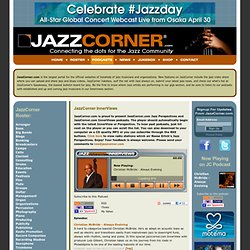 Jazz: JazzCorner.com - Jazz websites, jazz videos, jazz forums, jazz podcasts, jazz news, jazz jukebox
Welcome to Guyana Jazz Festival 2012!
Jaco Pastorius: The Great Innovator — The Blues Blogger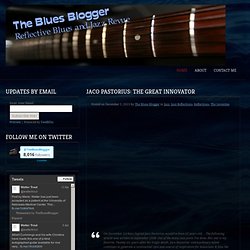 The following article was written exactly one year ago. Out of the many jazz posts I've done, this one is my favorite. Twenty two years after his tragic death, Jaco Pastorius' extraordinary talent continues to generate a sentimental spot, and is a source of inspiration for musicians and fans the world over.… I hope you enjoy the variation in genre this time around. ~TBB
MARIO CANONGE - MICHEL ZENINO Duo Jazz en concert à Le Baiser Salé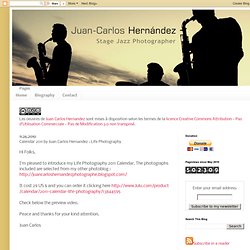 Pages Les oeuvres de Juan Carlos Hernandez sont mises à disposition selon les termes de la licence Creative Commons Attribution - Pas d'Utilisation Commerciale - Pas de Modification 3.0 non transposé . This Blog
Life Photography
Twitter Jazzerati A-Z - Jazz | ElementsofJazz.com
Une Guadeloupéenne nominée aux Grammy Awards - RCI Guadeloupe Radio Caraïbe International
John Coltrane – Naima – 1965
SabineWe | Listen to dhafer youssef wood talk (józef chełmoński)
unnamed pearl
Steve Coleman
Dance Of The Infidels
Greg Osby Quintet: Live At The Village Vanguard
Jazz At Newport
Steve Coleman and the trumpet of Jonathan Finlayson
FM - : Steve Coleman - Motherland Pulse 1. Irate Blues (4:22) -
FM - : Steve Coleman - Motherland Pulse 4. Wights Waits For Weig
FM - : Steve Coleman - Motherland Pulse 5. No Good Time Fairies
FM - : Steve Coleman - Motherland Pulse 6. On This (5:11) - #jaz
FM - : Steve Coleman - Motherland Pulse 7. The Glide Was In The
FM - Steve Coleman: cud_ba-rith
FM - Steve Coleman: another_level
FM - : Steve Coleman - The Sonic Language of Myth 2. Maat - #jaz
FM - : Steve Coleman - The Sonic Language of Myth 3. The Twelve
FM - Steve Coleman and Five Elements: Precession
FM - : Steve Coleman - Curves of Life 2. Country Bama - #jazz
FM - : Steve Coleman - Curves of Life 3. The Streets - #jazz
FM - : Steve Coleman - The Way of the Cipher 1. Freestyle - #jaz
FM - : Steve Coleman - The Way of the Cipher 5. Black Genghis -
FM - Steve Coleman And Five Elements: the_gypsy
FM - Steve Coleman And Metrics: night_breed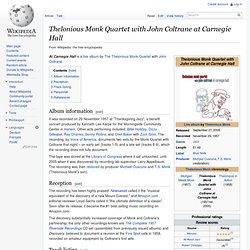 At Carnegie Hall is a critically acclaimed live album by The Thelonious Monk Quartet with John Coltrane . [ edit ] Album information It was recorded on 29 November 1957 at "Thanksgiving Jazz", a benefit concert produced by Kenneth Lee Karpe for the Morningside Community Center in Harlem .
Thelonious Monk Quartet with John Coltrane at Carnegie Hall - Wi
Gino Sitson Official Website
2010 Jazz Fest Lineup Announced | Features | Jazz FM
RIP Pete King (1929-2009)
Pete King (1929-2009) | Features | Jazz FM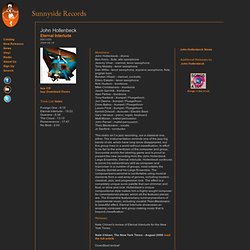 Sunnyside Records: by John Hollenbeck
Musicians : John Hollenbeck - drums Ben Kono - flute, alto saxophone Jeremy Viner - clarinet, tenor saxophone Tony Malaby - tenor saxophone Dan Willis - tenor saxophone, soprano saxophone, flute, english horn Bohdan Hilash - clarinet, contralto Ellery Eskelin - tenor saxophone Rob Hudson - trombone Mike Christianson - trombone Jacob Garchik - trombone Alan Ferber - trombone Tony Kadleck - trumpet / Fluegelhorn Jon Owens - trumpet / Fluegelhorn Dave Ballou - trumpet / Fluegelhorn Laurie Frink - trumpet / Fluegelhorn Kermit Driscoll - Acoustic / Electric Bass Gary Versace - piano, organ, keyboard Matt Moran - mallet percussion John Ferrari - mallet percussion Theo Bleckmann - vocals Jc Sanford - conductor This really isn't a jazz recording, nor a classical one, either. The instrumentation reminds one of the jazz big bands of old, which have long since disappeared, but this group lives in a world without classification.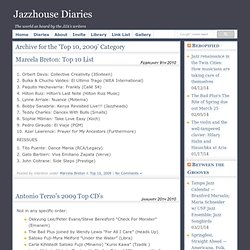 (This list is expanded from a similar list published in the Village Voice and Las Vegas City Life ). 1. Allen Toussaint , The Bright Mississippi (Nonesuch) – The old-school R&B hitmaker digs deep into jazz roots, applying elegant piano to New Orleans chestnuts and pieces by Monk and Ellington.
Diaries » Top 10, 2009
FM - : Abdullah Ibrahim / Capetown Carnival / South Africa (1986
FM - : Charlie Haden + Egberto Gismonti / Don Quixote / In Montr
FM - : Herbie Mann (flute) / Uskudar / Impressions of the Middle
Radio Jazz Plus Est Une Web/Internet Radio De Smooth Jazz Sans F
Gig Guide | Jazz FM
Winter Jazzfest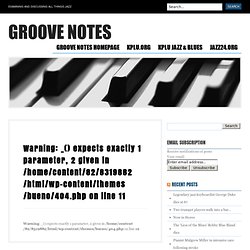 1,000 Jazz Albums You Should Hear Before You Die (441-460) « Gro
Here is another 20 to add to the list. Remember that there is no ranking system here, and if you don't see your favorite jazz album yet, it doesn't mean it won't show up. Every week I will offer up twenty more, in no particular order and with no ranking system or common theme (other than jazz of course). Hopefully these lists will inspire you to seek some of these albums out that perhaps you haven't heard before, or revisit an old favorite.
Enrico Rava
Magic Malik
Fred Frith and Carla Kihlstedt
Ohad Talmor
Buns O'Plenty
Online Jazz Radio Station - Live365 Internet Radio - Curt's Cafe
Oscar Peterson sculpture | Facebook Page | Jazz FM
Acid #jazz in live: "E passerà, lasciami gridare... - ALL MUSIC
LIVE MUSIC AT THE FALCON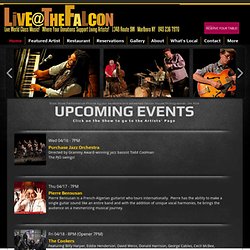 Blondie Chaplin (Guitar, Vocals) The greatest success for South Africa-born multi-instrumentalist/vocalist Blondie Chaplin has come as a sideman for such groups as the Beach Boys, the Band, and the Rolling Stones. His hook-laden melodies have enhanced albums by Jennifer Warnes, Bonnie Raitt, David Johansen, Elliott Murphy, and the Band's Rick Danko. Chaplin initially attracted attention as a member of the Flames, a soul cover band that became the first non-white group to reach the top slot on South Africa's music charts with their 1968 single, "For Your Precious Love." The following year, the band's performance in a London club was overheard by Carl Wilson of the Beach Boys.
Tweet For A Track: Free viral music promotions on Twitter (trade