IT
Regional University could play a leading role in technology innovation. ST AUGUSTINE, Trinidad, Monday November 29, 2010 – There is an emerging move to take practical steps to transform the Caribbean from a region that mostly consumes foreign Internet services and content, to a centre for the production of new online services and indigenous Caribbean cultural content. Information and Communications Technology (ICT) Department staff from across the regional university gathered for an end-of-year retreat, themed "Revisioning ICT for the Single Virtual University Space." The event, which took place from November 18th to 20th at The UWI St Augustine Campus Administration Building Conference Room, brought together IT professionals from UWI campuses in Trinidad and Tobago, Jamaica and Barbados. It also included representation from the UWI Open Campus, which offers multi-mode teaching and learning services through virtual and physical site locations across the Caribbean region.
UWI IT community discuss Caribbean cloud computing
Directory
IS2 - Informatique Service Support
How to put Windows XP on your USB thumb drive! How to: Make Your USB Drive into a Digital Swiss Army Knife Monday, June 18, 2007 at 1:27pm by The Free Geek As any geek can tell you, the smaller and more portable a gadget is, the better that gadget becomes.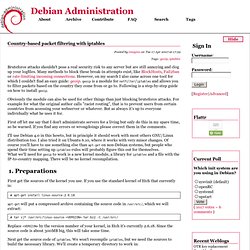 Posted by imagine on Tue 17 Apr 2007 at 17:59 Bruteforce attacks shouldn't pose a real security risk to any server but are still annoying and clog up your logfiles. Many methods to block these break-in attempts exist, like BlockHosts , Fail2ban or rate-limiting incoming connections . However, on my search I also came across one tool for which I couldn't find an easy guide: geoip . geoip is a module for netfilter / iptables and allows you to filter packets based on the country they come from or go to. Following is a step-by-step guide on how to install geoip . Obviously the module can also be used for other things than just blocking bruteforce attacks.
Country-based packet filtering with iptables
Search redefined
Anyone with even a remote interest in the semantic space has likely experienced the same roller coaster I have regarding Powerset . When I first spoke with Barney Pell over a year ago, the semantic tech sector was an entirely different landscape. I was intrigued by my conversation with Barney and the short demo I saw of Powerset-enabled search. How nifty that the engine knows what I mean by "who did IBM acquire"! But as months went by, we didn't hear much from Powerset, save a seemingly incongruous Labs announcement. And we heard much from other players in the space.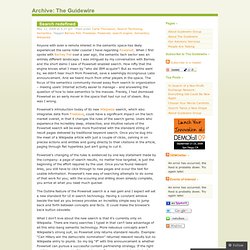 Back in the old days – or the '90s as some call them – we utilized the Internet as an information resource. What's that phone number, where is that address, where can I buy that product – you had concrete questions and were no longer required to speak to a human to get answers. Sure, there were bulletin boards and Usenet forums for discussion but they primarily involved coding arguments and game walkthroughs. The Internet wasn't truly upended into a community, and all that that entails, until just a couple of years ago.
Search takes a new shape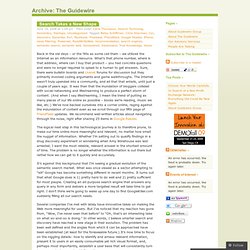 Until the release of Yahoo! Query Language , one of the key parts missing from del.icio.us (or "Delicious," as it's now branded) was a full-text search API. What follows uses YQL, Pipes, and a couple of native feeds from Delicious to provide an on-page search-and-browse experience, for users, tags, and sites.
Delicious Search Exploder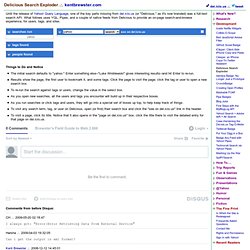 Cloud | Aptana
Database Online Documentation 10g Release 1 (10.1)
TECH SOURCE FROM BOHOL: 25 Best GIMPed Images
GIMP is an amazing image editing software that allows people with limitless imagination create extraordinary images out of ordinary photos. To let you see what I mean, I have here a collection of some of the most beautiful and sometimes funny GIMPed images. I hope you'll enjoy this one as much as I do.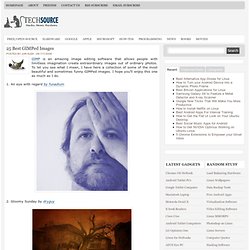 Freelance-informatique : missions freelance en informatique, for
50+ Ways to Improve Your Productivity as a Freelancer - Freelanc
Maximizing productivity is a never-ending task for most freelancers. There's always some way that we can improve or some area that's lacking the attention it deserves. This post serves as a guide and a reminder for ways that we can get more done and make better use of our time. Feel free to add your own suggestions in the comments. Managing your daily appointments, events and meetings can get overwhelming as you switch between your favorite calendar applications; on your mobile, desktop, web browser. Keeping them all in sync is no easy task and to do this manually will simply not be pleasant. With Zoho Calendar, we would like our users to be in sync with their daily events automatically, even while using other calendar apps. In this light, we are glad to announce 2-way sync for Google Calendar , available for users of organizations / businesses subscribed to a Zoho Mail suite standard plan.
Blogs " Zoho Mail
Send big files the easy way. Files too large for email attachmen
Jargon Informatique
CloudPlatforms--Chappell.pdf (application/pdf Object)
The Art of Community-Jono Bacon
Avec la multiplication des plateformes sociales, il devient de plus en plus compliqué de gérer les conversations et les traces que vous laissez. Pire, si un service que vous utilisez ferme ses portes, vous perdez l'historique des interactions sociales qui étaient hébergées dessus. C'est là où intervient Silentale , une startup française (cocorico !) qui a reçu le prix du public lors de l'édition 2008 de LeWeb (Arg !
Médias sociaux > Archivez votre présence sur les médias sociaux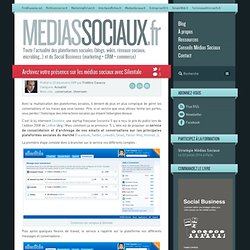 Les plateformes de microblogging ont eu le vent en poupe en 2009 et ce n'est pas pour nous déplaire. En effet, nous en avons profité pour les paramétrer, les exploiter et au final les dompter. Mais au milieu de tous ces services, lesquels sont encore debout ? Lesquels valent encore le coup ?
Top 5 des plateformes de microblogging
La liste des faux antivirus
Gare aux faux antivirus qui circulent sur Internet comme aux suites logicielles soit disant « Total Security » qui causeront plus de tort à votre ordinateur qu'elles ne le protégeront. Certains messages, parfois persuasifs, peuvent amener certains utilisateurs qui débutent dans le monde de l'Internet à télécharger un logiciel antivirus , moyennant finance, qui au pire des cas aura eu pour effet de délester l'internaute de quelques dizaines d'euros, au pire d'avoir contaminer la machine délibérément, à base de vers, trojans, adwares et spywares… Ces rogues sont de véritables arnaques mais l'activité n'est pas prête à décliner étant donné qu'elle est très rentable…
10 Golden Rules of Social Media
I know, I know — it's a bit presumptuous of me to think I can write the "10 Golden Rules of Social Media." Then again, I've been online since 1987, consulting clients on the Internet since 1992, on the web since 1994, immersed in working on and speaking about the web since the mid-1990s, so I do feel like I've paid some dues and learned some lessons along the way. So here are my 10 Golden Rules of Social Media to embrace, debate, pass around and refine. Have at it. 1. Respect the Spirit of the 'Net.
When Daniel Raffel emailed and asked if we'd be interested in publishing his list of favorite stuff from 2009 we quickly agreed. He has worked on some of the more interesting projects in Silicon Valley over the last couple of years, and has his finger on the pulse of new technology. His post is below. As the year winds down, I thought it would be fun to take a look back at my favorite tech launches this year. As I started assembling my list and bouncing them off friends I started to group them into the following categories: New Projects, New Products and Services, Feature Updates, and iPhone Apps. This list is an admittedly subjective batch.
From A Geek's Geek: Daniel Raffel's Favorite New Projects, Produ
Soon7 : Blog d'un passioné du web et de ses spécifités locales a