sortie pearltrees ipad
Get flash to fully experience Pearltrees
WHAT: A web-based and iPad application to organize and curate your social life online. Users collect, or bookmark, web pages, tweets, Google+ posts and more, and arrange them in pearls or pearltrees. A pearl holds anything interesting you find on the web with a URL.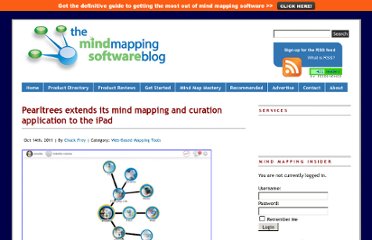 Earlier this week, Pearltrees for iPad was launched , enabling collectors and curators of web content to do so on Apple's popular tablet. The iPad's touch interface is a perfect complement to this popular tool, which has signed up over 200,000 users for the web-based version of Pearltrees during the last year and a half. This functioned just the way I like it – seamlessly. At the time I reviewed the browser version of Pearltrees in December 2009, I wasn't quite sure what all the excitement was about. Since then, content curation has gotten a lot of attention, as business people and consumers alike seek ways to save interesting web content for future reference. Pearltrees for iPad extends this visual exploration model to the world's most popular tablet, accessing your online Pearltrees account seamlessly.
In a new spin on social networking Kate Russell reviews Badoo, which bills itself as a place to connect with people you do not know. Pearltrees allows users to organise online finds - such as websites, RSS and video feeds - into interest groups making them easier to navigate. The iNap: Arrival Alert on iPhone and Android handsets wakes you up based on location when you are getting close to your station. And finally, bargain hunters beware. Scam websites buyitplayit.eu and buyitplayit.org advertise absurdly attractive prices for tech which - of course - never turns up.
Not many tech CEOs would have the guts to describe their products as "magical" and as delivering "pure happiness", but that's exactly how Pearltrees ' Patrice Lamothe describes the startup's iPad app released today. You know what? He may just be right. Pearltrees is a service that takes a visual approach to Web curation. Launched late last year with its browser-based version, it allows you to create networks of 'pearls' on screen.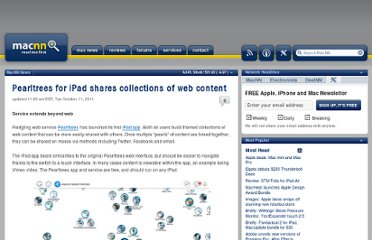 Service extends beyond web Fledgling web service Pearltrees has launched its first iPad app . Both let users build themed collections of web content that can be more easily shared with others. Once multiple "pearls" of content are linked together, they can be shared en masse via methods including Twitter, Facebook and email. The iPad app bears similarities to the original Pearltrees web interface, but should be easier to navigate thanks to the switch to a touch interface. In many cases content is viewable within the app, an example being Vimeo video.
"Tell me when it's an iPad app," I've told the team behind web curation startup Pearltrees over and over again. That day has finally come and what was a clumsy, Flash-based web experience is now a gorgeous, brilliant iPad app. Happy day, the Pearltrees iPad app is finally here !
Content curation and mapping service Pearltrees is launching a dedicated iPad app today to allow users to cultivate and share their interests from the web on the tablet device. For background, Pearltrees is a visual social bookmarking service that allows users to organize, discover and share everything they like on the web. Content can be dragged and dropped into Pearltrees and the service will organize this via a string of 'pearls,' which can then be moved around, organized and shared. Launched in December 2009, Pearltrees has gathered more than 10 million pearls. The company has says it has been growing at average rate of 15% month over month, with over half a million visits in September. Considering the visual nature of the iPad, Pearltrees founder Patrice Lamothe says that the device is a natural home for Pearltrees.