Sites Webs innovants
Ben Milne founded Dwolla Company: Dwolla Founders: Ben Milne Location: Des Moines, Iowa Funding: $1 million from The Veridian Group and The Members Group in Iowa.
20 Innovative Startups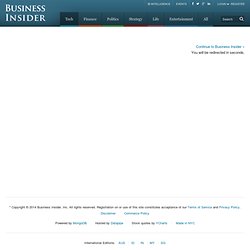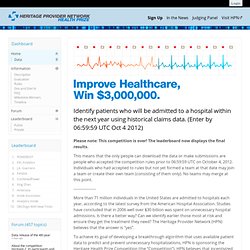 Please note: This competition is over! The leaderboard now displays the final results. This means that the only people can download the data or make submissions are people who accepted the competition rules prior to 06:59:59 UTC on October 4, 2012. Individuals who had accepted to rules but not yet formed a team at that date may join a team or create their own team (consisting of them only). No teams may merge at this point.
Description - Heritage Health Prize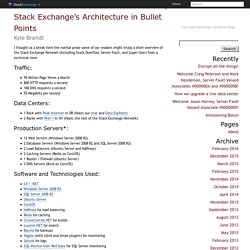 Stack Exchange's Architecture in Bullet Points - blog.serverfault.com
I thought as a break form the normal prose some of our readers might enjoy a short overview of the Stack Exchange Network (including Stack Overflow, Server Fault, and Super User) from a technical view: Traffic: 95 Million Page Views a Month800 HTTP requests a second180 DNS requests a second55 Megabits per second Data Centers: 1 Rack with Peak Internet in OR (Hosts our chat and Data Explorer)2 Racks with Peer 1 in NY (Hosts the rest of the Stack Exchange Network) Production Servers*: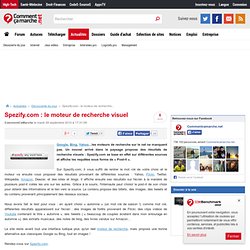 Google, Bing, Yahoo...les moteurs de recherche sur le net ne manquent pas. Un nouvel arrivé dans le paysage propose des résultats de recherche visuels : Spezify.com se base en effet sur différentes sources et affiche les requêtes sous forme de « Post-it ». Sur Spezify.com, il vous suffit de rentrer le mot clé de votre choix et le moteur va ensuite vous proposer des résultats provenant de différentes sources : Yahoo, Flickr, Twitter, Wikipédia, Amazon, Deezer, et des sites et blogs. Il affiche ensuite ses résultats sur l'écran à la manière de plusieurs post-it collés les uns sur les autres. Grâce à la souris, l'internaute peut choisir le post-it de son choix pour obtenir des informations et le lien vers la source. Le contenu propose des billets, des images, des tweets et du contenu provenant principalement des réseaux sociaux.
Spezify.com : le moteur de recherche visuel