Serveurs
Reseaux
MSN Live. Search. Big Data. API. Documents - Lecteur. Java and Tomcat on Mac OS X, Part I. Safari 6 Learn about the new features in the world's most innovative web browser.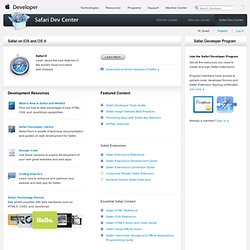 Development Resources Sample Code Use these samples to inspire development of your own great websites and web apps. Extreme Agility at Facebook | blog@CACM | Communications of the. By E.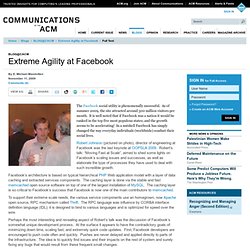 Michael Maximilien November 11, 2009 Comments (4) The Facebook social utility is phenomenally successful. As of summer 2009, the site attracted around 300 million visitors per month. It is well noted that if Facebook was a nation it would be ranked in the top five most populous states; and the growth seems to be accelerating! 11 Strategies to Rock You.
This is a guest posting by Marty Abbott and Michael Fisher, authors of The Art of Scalability.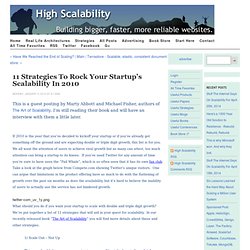 I'm still reading their book and will have an interview with them a little later. If 2010 is the year that you've decided to kickoff your startup or if you've already got something off the ground and are expecting double or triple digit growth, this list is for you. We all want the attention of users to achieve viral growth but as many can attest, too much attention can bring a startup to its knees. If you've used Twitter for any amount of time you're sure to have seen the "Fail Whale", which is so often seen that it has its own fan club.
Other startup architectures. Structured diff. Debug. SEO. Creative SEO. Java. Prod. NFS. Theory. Linux. Hot Scalability Links for. Latency is Everywhere and. Update 8: The Cost of Latency by James Hamilton.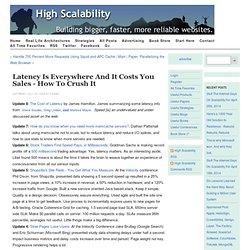 James summarizing some latency info from Steve Souder, Greg Linden, and Marissa Mayer. Speed [is] an undervalued and under-discussed asset on the web. Update 7: How do you know when you need more memcache servers?. Dathan Pattishall talks about using memcache not to scale, but to reduce latency and reduce I/O spikes, and how to use stats to know when more servers are needed.Update 6: Stock Traders Find Speed Pays, in Milliseconds. Goldman Sachs is making record profits off a 500 millisecond trading advantage. CNS - News. CNS 2009 Lecture Series Archives Please note that archival web casts may not upload due to security parameters in place.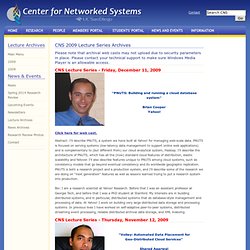 Please contact your technical support to make sure Windows Media Player is an allowable access. CNS Lecture Series - Friday, December 11, 2009 Click here for web cast. Abstract: I'll describe PNUTS, a system we have built at Yahoo!
Mail. Investigation. Blaze DS. Fetch. Scrapping. Stats. Bad frame. Database.
---