Developping for iphone
Macbook
8 Great Resources For Learning Iphone OpenGL ES | iPhone iOS 4 iTV iPad SDK Development Tutorials, Programming Tips, News. Here's a list of great resources for learning iPhone OpenGL ES for all you aspiring iPhone game programmers.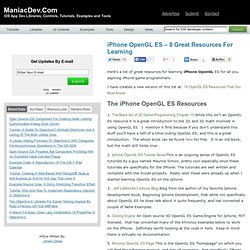 I have created a new version of this list at: 18 OpenGL ES Resources That You Must Know! 1. The Black Art of 3D Game Programming Chapter 10 While this isn't an OpenGL ES resource it is a great introduction to the 2D and 3D math involved in using OpenGL ES. The Daleisphere — iPhone App Development – Where to Start. [October 4, 2012 Update] On September 27, 2012, Apple accepted my first app, Fine Tip – Tip Calculator (buy it here, read about it here) into the app store.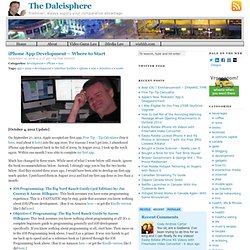 For reasons I won't get into, I abandoned iPhone app development back in the fall of 2009. In August 2012, I took up the torch again. Within one month I was able to complete my first app. Safari Books Online: Cocoa® Programming for Mac® OS X. The practical guide everyone says you need!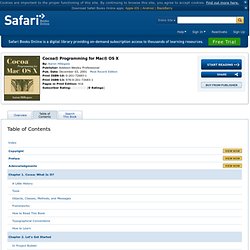 "The most comprehensive guide to developing Cocoa available. For the developer new to Cocoa, it provides an excellent introduction that will lead to success with the world's best object-oriented development tools. For those familiar with Cocoa, the excellent organization and presentation make the book invaluable as a reference tool.
"
---