Fun and helpful things
The Web Genius. Le Awesome. Tuxessories. Smiley Codes. ShindanMaker. RainyMood.com: Rain makes everything better. Creepy owls. The Complete Guide to Not Giving a Fuck. Ok, I have a confession to make.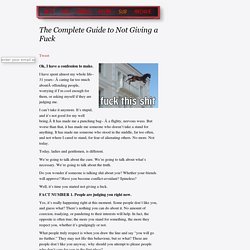 I have spent almost my whole life– 31 years– caring far too much about offending people, worrying if I'm cool enough for them, or asking myself if they are judging me. I can't take it anymore. It's stupid, and it's not good for my well being. It has made me a punching bag– a flighty, nervous wuss. Fancy Pants Adventure. Schwuugle - Die shwule Suchmaschine.
---