Sliders
Windy: A Plugin for Swift Content Navigation
This jQuery plugin can be used to swiftly navigate content items. The effect will make the items fly away like a deck of cards caught in a tiny storm. View demo Download source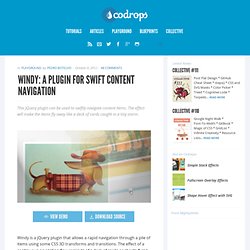 Image slideshows are a popular method of displaying numerous sequential photographs in web design. By making use of the handy Cycle plugin for jQuery, we can easily create a slideshow of our own, complete with previous and next navigation controls. Not a master of Javascript?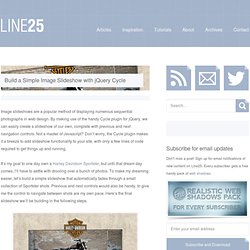 Build a Simple Image Slideshow with jQuery Cycle
Create a Slick and Accessible Slideshow Using jQuery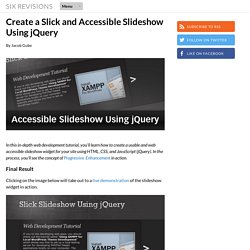 In this in-depth web development tutorial, you'll learn how to create a usable and web accessible slideshow widget for your site using HTML, CSS, and JavaScript (jQuery).
A jQuery plugin that will create a booklet-like component that let's you navigate through its items by flipping the pages. View demo Download source BookBlock is a jQuery plugin that can be used for creating booklet-like components that allow a "page flip" navigation. Any content can be used, such as images or text. The plugin transforms the structure only when needed (i.e. when flipping a page) and uses some overlays as shadow for the pages to create more realism.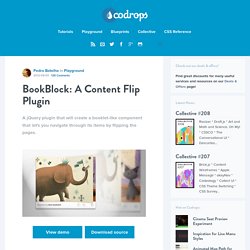 How to Create Your Own jQuery Content Slider | Fearlessflyer
This tutorial will show you how to create your own jQuery content slider. You may ask " Why create my own if there are hundreds of already made sliders out there? " This is true: I myself almost always use ready made plugins for my projects. Yet, it is always a good thing to know how they work. It also comes in handy – if you should ever want to customize it (it's always harder to edit someone else's code).
How to Create an Image Slider using jQuery and CSS3 [Tutorial]
Topic: CSS3 & jQuery Difficulty: Intermediate Estimated Completion Time: 30 mins In this tutorial we will create a Slider with "Nivo Slider jQuery Script" and CSS3. We will use the "Nivo Slider jQuery Script" because it's a powerful tool and it's free.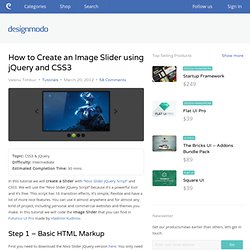 A jQuery content rotator plugin (tested on 1.3 & 1.4) Features: Automatically (optional) adds navigation between images/content HTML of the previous and next tags can be passed as parameters to the plugin Automatically (optional) transitions between images/content Duration of image/content display and transition speed can be passed as parameters to the plugin Called on an element containing elements that will be rotated i.e. $('.containing_element).sideswap(); More documentation coming soon
!Sideswap Content Rotator
The world's most awesome jQuery & WordPress Image Slider The Nivo Slider is world renowned as the most beautiful and easy to use slider on the market. The jQuery plugin is completely free and totally open source, and there is literally no better way to make your website look totally stunning.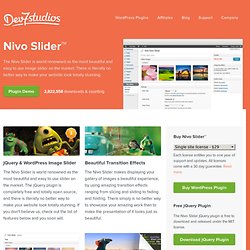 jQuery Content Slider | Responsive jQuery Slider | bxSlider
Published by Chris Coyier Just what the world needs, another jQuery slider. YAWN.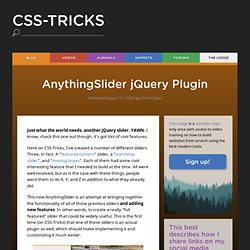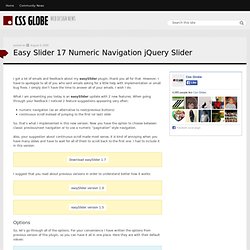 I got a lot of emails and feedback about my easySlider plugin, thank you all for that. However, I have to apologize to all of you who sent emails asking for a little help with implementation or small bug fixes. I simply don't have the time to answer all of your emails.
Slides, A Slideshow Plugin for jQuery
Revolver.js — A content slider framework for jQuery and Mootools.
Showing off the best content of your website or blog in a nice intuitive way will surely catch more eyeballs.
Create Featured Content Slider Using jQuery UI
Today we will create a slideshow using jmpress.js. The jQuery plugin that is based on impress.js will allow us to use some interesting 3D effects for the slides. View demo Download source You have for sure already seen impress.js , a really great JavaScript library for creating extraordinary 3D presentations. The jQuery port jmpress.js let's you use this library as a jQuery plugin with some added options.
Slideshow with jmpress.js
You've probably noticed that a lot of websites lately have a featured area with content that slides or changes in some way. This is a great technique to show several pieces of content in a limited amount of space and a good way to engage the user.
Donec sed odio dui. Nulla vitae elit libero, a pharetra augue. Nullam id dolor id ultricies ut vehicula ut id. Integer posuere erat a venenatis dapibus posuere velit aliquet duis mollis. Donec sed odio dui. Nulla vitae elit libero, a pharetra augue.
Best of:Responsive jQuery Image Slider Plugins
Responsive website design has been taking over the industry for the last year. Creating a fully responsive website that only consists of text and basic images is easy enough, but what about "real world" websites which often times consist of image galleries and sliders? Luckily developers have been hard at work over the last year, creating a variety of fully responsive image sliders and galleries. Here is a list of the top 30 responsive jQuery image sliders (in no special order).
Top 30 Responsive jQuery Slider Plugins for Websites
28 Useful JQuery Sliders You Need To Download
15 jQuery Space-Saving Content Sliders and Carousels
WOW Slider : jQuery Slider und Bildergalerie
37 Fresh jQuery Image, Content Sliders And Slideshows
25 Very Detailed jQuery Image and Content Slider Tutorials
25 Must Learn Slider Tutorials with jQuery
JQuery: Die 20+ besten Content – Plugins (Scroll, Accordion, Slide) » License, Size, Homepage, Demo, JQuery, Accordion » BLOGRAMMIERER