Jpop
Insideninja.tumblr. Photo by aksuperdance. Insideninja.tumblr. Photo by aksuperdance. Photo by aksuperdance. Photo by aksuperdance. SKE48 5th Generation Auditions. The search for the 5th generation members of SKE48 had just gone underway a few days ago on September 5th.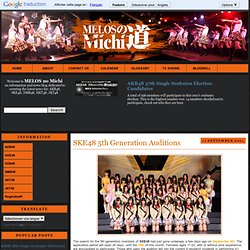 The application period will span 26 days, until the 30th of this month. Females ages 11-22, with or without prior experience, are encouraged to participate. Those who pass the audition will join the current 9 research students in performing A1 periodically and serving as the full-fledged members' unders. Those interested in auditioning for SKE48 can access the application via: 1) A downloadable form on SKE48's official website; the link can be found at the bottom of this page: Contact information: Phone: 052-959-4803 (Hours of Operation: 10AM - 6PM JST) E-mail: ske48-audition@pyp.co.jp.
MUSIC JAPAN to air "Anime song special" NHK's music show, "MUSIC JAPAN", will air a special program called "Ani-song (Anime song) Special 4" on January 16th.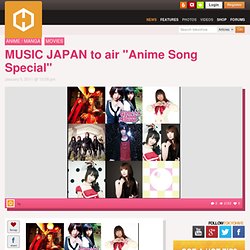 The "Ani-song" special has been broadcasted three times before, and many are looking forward to the fourth instalment in the series. The music show has also announced the artist line-up fot the special, so check it out below! ALI PROJECT - "Seishoujo Ryoiki" Girls Dead Monster (marina/LiSA) - "Crow Song" Kudo Mayu - "Heartcatch☆Paradise! " JAM Project - "MAXON" PIKO - "Wasurenagusa" Mizuki Nana×May'n - "ETERNAL BLAZE" Mizuki Nana - "Juujika no Spread" May'n - "Moshimo Kimi ga Negaunonara"
News
Concert. Gackt.
---