Other
Omegle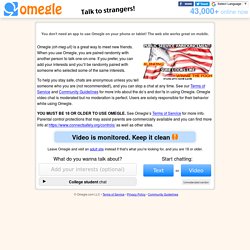 The Internet is full of people; Omegle lets you meet them. When you use Omegle, we pick someone else at random and let you have a one-on-one chat. You're kept anonymous unless you tell someone personal info (not suggested—safety is important), and you can stop a chat at any time. If you prefer, you can add your interests, and Omegle will look for someone who's into some of the same things as you, instead of someone completely random.
The Catoonizer
Free HTML5 Slideshows - SlideMyPics
Homepage
Polices à télécharger
Today's Featured Article - RAF Packington Royal Air Force Station Packington (RAF Packington) is a top secret military establishment in the English County of Staffordshire. It is home to the UK's stockpile of Weapons of Mass Distraction (WMDs). Packington is currently under the steely command of Group Captain Johnny "Nimrod" Hunter-Harrier DFC JPA QDJM. RAF Packington started off in 1826 as a pork-and-mustard factory run by local pink industrialist Jeremiah Gottmein-Himmel, who leased the site to the burgeoning Royal Scottish Air force (RSAF) who needed to establish a grass runway emergency landing strip (GREMLIN) for their aircraft returning from the disastrous First Porridge War against Kent.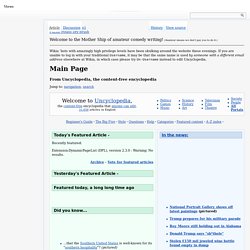 Uncyclopedia
WIKISKY.ORG
Boredom Relief. Learn Something New or Stimulate your Mind with BrainTeasers, Games, Magic Tricks and more.
What does "Blifaloo" mean? Blifaloo is what you say when you are too drunk/tired/lazy/dumb to say or type buatiful beautful beautiful. For example you might say "This taco is blifaloo!" What is Blifaloo? Here you will find fun games, interesting ideas, humor, interactive puzzles, free stuff, activities and information to temporarily relieve your boredom, exercise your brain, or just waste time. Chronic learners, opsimaths, hobby collectors and knowledge junkies - rejoice!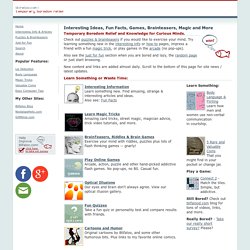 Cliche Finder
Reverse Fad Productions
Illusion - The Most Amazing Creations in Art, Photography, Design, Technology and Video.
mental_floss magazine - Where Knowledge Junkies Get Their Fix