Misc.
night blossom chiffon dress : Asian iCandy Store, Unique Asian Arts and Gifts From Independent Artists
Contrast Ruffle Tube Dress
The Poppy Festival Dress | Peacock Plume
Avant Garde-n Dress in Red - Shopmamie.com
All That Jazz Dress - Shopmamie.com
Corine Carryall - Shopmamie.com
This Time Around Cardigan - Shopmamie.com
TELLIS - handbags's handheld bags for sale at ALDO Shoes.
Layla Tote in Light Tan
Sorry about that, but the page you requested was not found. Here are some reasons why: The item you are searching for has SOLD OUT If you clicked on a link to get here, the link is outdated Typed the url directly? Please make sure the spelling is correct. How to get back on track?
'lette macarons - french macarons in los angeles, beverly hills, larchmont, little tokyo, passadena and san francisco
Benii Boutique-Night Out On The Town_One shoulder dress-Black one shoulder dress-One shoulder Dress
Benii Boutique -Fitted Pink Dress with sheer Shoulders and Back
Floral Henley Woven Dress - Aeropostale
Glam Tunic - Embellished Tunic - Bateau Neckline - Three-quarter Length Sleeves | SoftSurroundings.com
Paisley Long Line Kimono - View All - Tops
t_shirt_surgery: Tornado shape back- totorial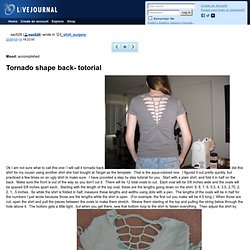 Ok I am not sure what to call this one- I will call it tornado back. I did this shirt for my cousin using another shirt she had bought at Target as the template. That is the aqua-colored one. I figured it out pretty quickly, but practiced a few times on an ugly shirt to make sure. I have provided a step by step tutorial for you. Start with a plain shirt, and fold it in half on the back.
New Arrivals - 2079687438
It´s saturday, I´m back in beautiful Monaco and life is good! As you all know I´m addicted to brown eyeshadows because it´s sofisticated, beautiful and goes with everything. However, sometimes plain brown can be a bit boring and since it´s saturday I decided to leave my comfort zone and do it with a twist. 1. As always we start with a base.
Springtime Scarf - New Arrivals - Accessories - Scarves - 1062097792 - Forever21
Liliana by Adi Women's Round Toe Heels
Material Girl Shoes, Tamper Flats - Material Girl - Juniors
877-798-2807 | Carrie sunglasses
Material Girl Dress, Strapless Sweetheart Striped Zipper A-Line - Material Girl - Juniors
Rated 4.1 out of 5 Â by 35 reviewers. Rated 5 out of 5 Â by moncheri A favorite. I have this in Ivory and wear it all of the time, as a dress, and as a skirt. I love the convertible aspect of this!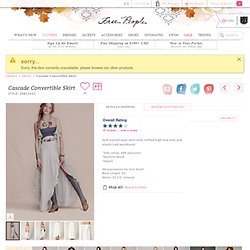 Cascade Convertible Skirt at Free People Clothing Boutique
Cissus Button-Up, Gingham - Anthropologie.com