Xoom
Motorola Xoom tablet PC - new Android internet tablet at PC World. Xoom Sues Motorola Over New Tablet Computer With Same Name. Xoom Corp., operator of a money- transfer website, sued Motorola Mobility Holdings Inc. for trademark infringement for naming its new tablet computer that went on sale today the Xoom.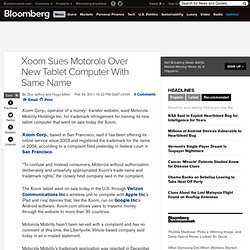 Xoom Corp., based in San Francisco, said it has been offering its online service since 2003 and registered the trademark for the name in 2004, according to a complaint filed yesterday in federal court in San Francisco. "To confuse and mislead consumers, Motorola without authorization deliberately and unlawfully appropriated Xoom's trade name and trademark rights," the closely held company said in the complaint. Motorola Xoom rooted in two hours flat, sinister transforming exoskeleton jetpack returns in Verizon ad. What's the first thing you're going to do with your Motorola Xoom?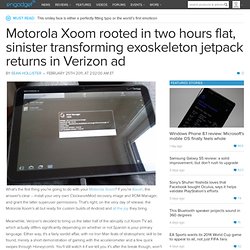 If you're Koush, the answer's clear -- install your very own ClockworkMod recovery image and ROM Manager, and grant the latter superuser permissions. That's right, on the very day of release, the Motorola Xoom's all but ready for custom builds of Android and allthejoy they bring. Meanwhile, Verizon's decided to bring us the latter half of the abruptly cut Xoom TV ad, which actually differs significantly depending on whether or not Spanish is your primary language.
Testing the Goods: Motorola Xoom, the First Real Android Tablet. We've been anxiously awaiting the Motorola Xoom's arrival ever since we groped it at CES.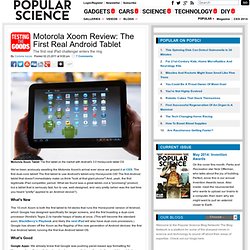 The first dual-core tablet! The first tablet to use Android's tablet-only Honeycomb OS! The first Android tablet that doesn't immediately make us think "look at that giant phone"! And, yeah, the first legitimate iPad competitor, period. What we found was a great tablet--not a "promising" product, but a tablet that is seriously fast, fun to use, well-designed, and very pretty (when was the last time you heard "pretty" applied to an Android device?).
Xoom - Experience Xoom. Motorola XOOM hits Best Buy Feb 17 for $700. Motorola's XOOM looks set to arrive in under a month's time, with a Best Buy leak tipping both pricing and release date for the Android slate.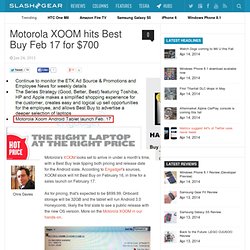 According to Engadget's sources, XOOM stock will hit Best Buy on February 16, in time for a sales launch on February 17. As for pricing, that's expected to be $699.99. Motorola unveils tablet computer, the Xoom. US telecom maker Motorola Mobility has jumped into the bustling tablet computer market with a touchscreen device powered by "Honeycomb," the latest version of Google's Android software.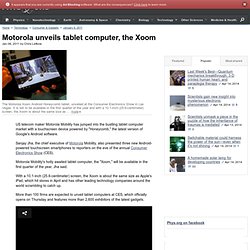 Sanjay Jha, the chief executive of Motorola Mobility, also presented three new Android-powered touchscreen smartphones to reporters on the eve of the annual Consumer Electronics Show (CES). Motorola Mobility's hotly awaited tablet computer, the "Xoom," will be available in the first quarter of the year, Jha said. With a 10.1-inch (25.6-centimeter) screen, the Xoom is about the same size as Apple's iPad, which hit stores in April and has other leading technology companies around the world scrambling to catch up.
More than 100 firms are expected to unveil tablet computers at CES, which officially opens on Thursday and features more than 2,600 exhibitors of the latest gadgets. Motorola`s Xoom Tablet`s $800 Cost: 10 Reasons It`s Overpriced - Mobile and Wireless. Some leaked promotional images from Best Buy of the upcoming and highly anticipated Motorola Xoom tablet indicate that the device will go on sale for $800 when it hits store shelves on Feb. 24.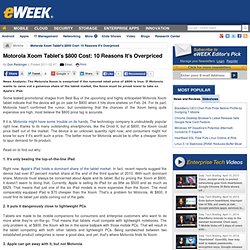 For its part, Motorola hasn't confirmed the rumor, but considering that the chances of the Xoom being quite expensive are high, most believe the $800 price tag is accurate. If it is, Motorola might have some trouble on its hands. The technology company is undoubtedly popular right now, thanks to its many outstanding smartphones, like the Droid X, but at $800, the Xoom could price itself out of the market.
---