WEB
Feed your mind. Thank you for downloading inSSIDer from Download.com. Translation bots - Google Talk Help. Google Talk is now available in the following interface languages: Dutch, French, German, Italian, Japanese, Korean, Portuguese, Simplified Chinese, Russian, Spanish, Traditional Chinese, Turkish, UK English, and US English.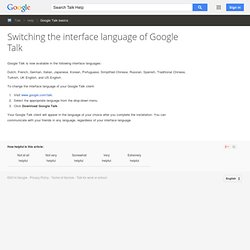 To change the interface language of your Google Talk client: Visit www.google.com/talk. Select the appropriate language from the drop-down menu. Mini & Opera Mobile browsers - Features. Kritiek na Fibernet lanceringen | Tik vzw. Nieuws Na de grote spektakelachtige lancering van de 2 nieuwe Fibernet-abonnementen komt er op heel wat fronten kritiek op de nieuwe Telenet-acties.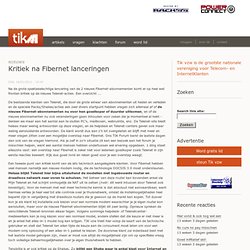 Een overzicht ... De bestaande klanten van Telenet, die door de grote wirwar van abonnementen uit heden en verleden en de speciale Packs/Shakes/acties een zeer divers startpunt hebben vragen zich allemaal af of de nieuwe Fibernet-abonnementen nu voor hen goedkoper of duurder uitkomen, en of de nieuwe abonnementen nu ook veranderingen gaan inhouden voor zaken die je momenteel al hebt - denken we maar aan het aantal aan te sluiten PC's, mailboxen, webruimte, enz.
De Telenet-site biedt helaas maar weinig antwoorden op deze vragen, en de helpdesk en Telenet-centers geven ook maar weinig eensluidende antwoorden. De klant wordt dus aan z'n lot overgelaten en blijft met meer en meer vragen zitten over een mogelijke overstap naar Fibernet. Demos | Sandbox from Yahoo! Research. Correlator from Yahoo! Research. Spezify. Apps, Extensions and Themes. YourSpeed v3.7. Server Status.
---