WEB
Thank you for downloading inSSIDer from Download.com
Kritiek na Fibernet lanceringen | Tik vzw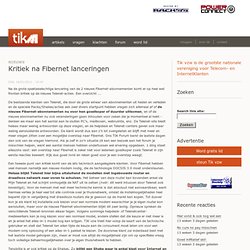 Nieuws Na de grote spektakelachtige lancering van de 2 nieuwe Fibernet-abonnementen komt er op heel wat fronten kritiek op de nieuwe Telenet-acties. Een overzicht ... De bestaande klanten van Telenet, die door de grote wirwar van abonnementen uit heden en verleden en de speciale Packs/Shakes/acties een zeer divers startpunt hebben vragen zich allemaal af of de nieuwe Fibernet-abonnementen nu voor hen goedkoper of duurder uitkomen, en of de nieuwe abonnementen nu ook veranderingen gaan inhouden voor zaken die je momenteel al hebt - denken we maar aan het aantal aan te sluiten PC's, mailboxen, webruimte, enz. De Telenet-site biedt helaas maar weinig antwoorden op deze vragen, en de helpdesk en Telenet-centers geven ook maar weinig eensluidende antwoorden. De klant wordt dus aan z'n lot overgelaten en blijft met meer en meer vragen zitten over een mogelijke overstap naar Fibernet.
Demos | Sandbox from Yahoo! Research
Correlator from Yahoo! Research
YourSpeed v3.7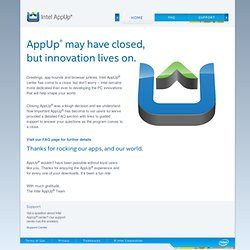 Intel AppUp(SM) Center
Greetings, app hounds and browser junkies. Intel AppUp® center has come to a close, but don't worry – Intel remains more dedicated than ever to developing the PC innovations that will help shape your world. Closing AppUp® was a tough decision and we understand how important AppUp® has become to our users so we've provided a detailed FAQ section with links to guided support to answer your questions as the program comes to a close. Visit our FAQ page for further details AppUp® wouldn't have been possible without loyal users like you. Thanks for enjoying the AppUp® experience and for every one of your downloads.
Server Status