Java
You may use the code at no charge in commercial or non-commercial apps, web sites, games, components, and other software as long as end users are not charged a fee of any kind to use your product or gain access to any part of it. If your client pays you a one-time fee to create the site/product, that's perfectly fine and qualifies under the "no charge" license.
SplitText: Break Apart HTML Text into Characters, Words and Lines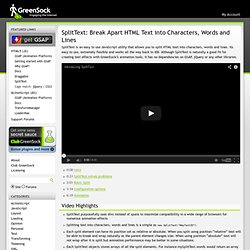 Biz Stone called it "one of the most special days in the history of Twitter." And as it turned out, it was also a notable day for Java, a relic of the 1990s that is once again remaking the internet. In the summer of 2010, Russian President Dmitry Medvedev visited Twitter headquarters in downtown San Francisco, on his way to a meeting with Google chief Eric Schmidt in Silicon Valley and a sit-down with President Barack Obama at the White House. That day, Twitter HQ was transformed into something akin to an airport security checkpoint, complete with armed guards, and the worldwide press turned out in droves to watch the Russian president send his first tweet.
The Second Coming of Java: Clinton-Era Relic Returns to Rule Web | Wired Enterprise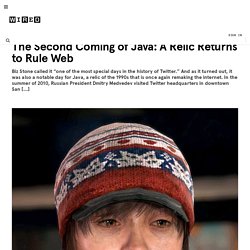 Open Source Flash - wsdl2as
Web-Harvest Project
Mariush T. – Freelance Flex/PureMVC Developer – blog » Blog Arch
This application demonstrates how to use AIR 2.0 Native Process with Java program. Air application sends String to Java program, Java program reads it and sends back to AIR app. Before packaging the 'NativeProcessDemo' application into an AIR file, make sure you have added the following line to application description file <supportedProfiles>extendedDesktop desktop</supportedProfiles>.