Flash
iPad mini Support is Now Available! « Adobe AIR and Adobe Flash Player Team Blog
"Электронный университет" - Interactive Lab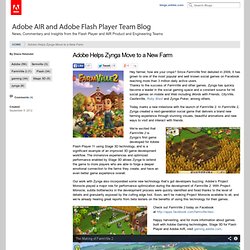 Helps Zynga Move to a New Farm | Digital Media Blog
Hey farmer, how are your crops? Since FarmVille first debuted in 2009, it has grown to one of the most popular and well known social games on Facebook reaching more than 3 million daily active users. Thanks to the success of FarmVille and other games, Zynga has quickly become a leader in the social gaming space and a constant source for hit social games on mobile and Web including Words with Friends , CityVille, CastleVille, Ruby Blast and Zynga Poker , among others.
Internet Explorer 10 in Windows 8 will include a bundled, integrated version of Adobe Flash, and the Metro-style browser will support the use of Flash on a limited number of sites. This news and corroborating screenshots come from Within Windows and winunleaked.tk . In Windows 8, Microsoft's browser will come in two guises. There will be the traditional desktop browser, with its full support of plugins and extensions, and there will be the new Metro-style browser that will be plugin free .
Windows 8 will integrate, include Adobe Flash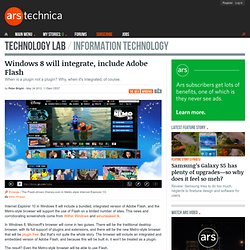 Download Flashplayer and many other games, wallpaper, ringtones and mobile apps on your Nokia phone
ADC Presents - Building Android Applications with Flash Professional CS5.5
Community Translation Episode available in 2 languages Available Translations: Join the Community Translation Project Thanks for your interest in translating this episode! To get started, please join the Community Translation Project.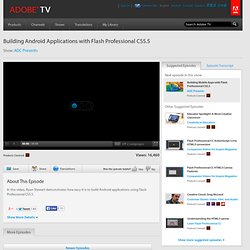 AIR and Adobe Flash Player Incubator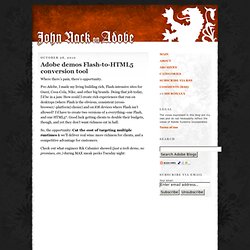 John Nack on Adobe : Adobe demos Flash-to-HTML5 conversion tool
Adobe demos Flash-to-HTML5 conversion tool Where there's pain, there's opportunity. Pre-Adobe, I made my living building rich, Flash-intensive sites for Gucci, Coca-Cola, Nike, and other big brands. Doing that job today, I'd be in a jam: How could I create rich experiences that run on desktops (where Flash is the obvious, consistent (cross-browser/-platform) choice) and on iOS devices where Flash isn't allowed? I'd have to create two versions of a everything–one Flash, and one HTML5*. Good luck getting clients to double their budgets, though, and yet they don't want richness cut in half.
Box2D Test on iPhone, Created with Adobe Flash CS5
be - Box2D Test on iPhone, Created with Adobe Flash CS5
Phidgets are a set of devices and sensors that provide a simple way for developers to create applications that both send and receiving information from external sensors, motors and pretty much anything else you can hook up via electronics. They are similar to the open source Arduino electronic platform. Im not going to do a big comparison between Arduino and Phidgets in this post. I plan to do that in another post (along with an Arduino / Flash hello world article). Suffice it to say though, that one of the major benefits of Phidgets, is that the Phidgets devices are a bit higher level, both on the hardware, and software side and thus can be a little easier for a developer new to electronics to get started with.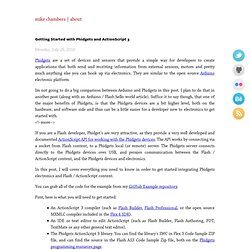 Getting Started with Phidgets and ActionScript 3 at Mike Chambers
semanticflash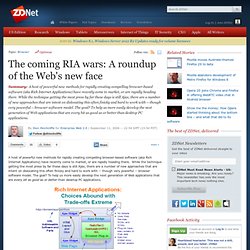 » The coming RIA wars: A roundup of the Web's new face | Enterpr
A host of powerful new methods for rapidly creating compelling browser-based software (aka Rich Internet Applications) have recently come to market, or are rapidly heading there. While the technique getting the most press by far these days is still Ajax, there are a number of new approaches that are intent on dislocating this often finicky and hard to work with -- though very powerful -- browser software model. The goal? To help us more easily develop the next generation of Web applications that are every bit as good as or better than desktop PC applications.
Flash Font Encoding I recently enjoyed the pleasures and pains of making a multilingual Flash site work. Not really unknown territory for me - I've been through this before, but that was in good old Flash 5 times. Back then it was an almost hopless venture to have a site not only in english or german, but also in greek, russian, polish, czech or hebrew. So I knew it would be a rough road.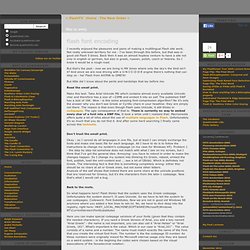 Mario Klingemann's Flash Blog: Flash Font Encoding
LoveMyFlash.com
haXe.org
Actionscript Classes
intoxo poxed
Yay random! January 19th, 2013 I awoke with the strangest notions at 5am.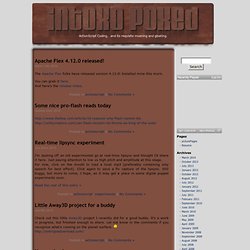 Motion-Twin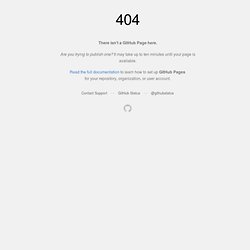 Non-Accessible HTML | Ryan Stewart – Rich Internet Application M
YouTube opens up captioning for all videos ….sort of. I know I work for Adobe, but this is the kind of thing that pisses me off. Flash gets such a bad rap from the open standards crowd who hold accessibility so highly but as of right now there isn't any way to do captioning in HTML5 videos. So when YouTube makes a big announcement about improving and enhancing accessibility by adding captions to all of their videos, no one mentions that it's just the Flash videos.
After queuing for an hour at the flagship Apple Store in SF this morning, we finally got our hands on a stack of magical devices. We've spent the rest of the day having fun getting the first Adobe AIR apps running on the iPad. We've tested many of the existing AIR apps that are on the Apple App Store today ( Alchemist , BaoZi Jump , Something Fishy , Gridshock , Space On-Air , Moai Mawashi etc, etc…), and they all have been working beautifully. We have also been working on bringing up the first "HD" apps that take advantage of the gorgeous screen of the iPad. Christian Cantrell from our team also got a multiscreen AIR app working on the iPad today.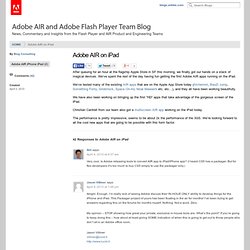 AIR on iPad - Adobe AIR Team Blog
Today, Apple revised its iPhone Developer Program License Agreement to effectively ban the use of the Flash-to-iPhone converter. Throughout 2010, Steve Jobs and Apple made it very clear that they do not like Adobe . At all. They prominently left Flash off the iPad , instead promoting HTML5 at every opportunity. For some time now, though, Adobe's had a tool to circumvent Apple's ban on Flash for the iPhone and iPad: the Adobe Creative Suite 5 Flash-to-iPhone converter , which would have allowed developers to create apps in Flash and then port them over into iPhone.
The Apple-Adobe War Escalates: Using Flash to Build iPhone Apps
QR Codes mit Flex und der Google Chart API erzeugen | www.video-
QR Codes dürften mittlerweile fast jedem ein Begriff sein. Es handelt sich um eine Art zweidimensionaler Barcode, der Textinformationen enthält. Der Text kann beispielsweise die Webadresse einer Promoaktion sein (z.B. auf einem Plakat oder einer Anzeige). Ausgelesen werden können die Information prinzipiell von jedem Gerät mit einer Kamera, das eine entsprechende Software enthält. In der Abbildung oben ist das kostenlos Programm "Barcodes" auf dem iPhone zu sehen.