Photographers
Jen Altman - fine art photography. Denise Grünstein : Editorial : CameraLink. Alex Prager – Photography & Films. Abby try again — Products. MUSUBI/青木むすび. JUCO. Max Wanger Photography. JOHNNY MILLER PHOTOGRAPHY. Rosie Hardy - Home. Randi Brookman Harris. Renate Gallois Montbrun - Photographers and artists representative. Koto Bolofo Photography. The Other Me.
In 2008, fresh out of high school, Karla Read picked up a hobby that would ultimately change the course of her life.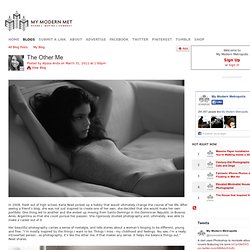 After seeing a friend's blog, she was not just inspired to create one of her own, she decided that she would make her own portfolio. One thing led to another and she ended up moving from Santo Domingo in the Dominican Republic to Buenos Aires, Argentina so that she could pursue her passion. She rigorously studied photography and, ultimately, was able to make a career out of it. Her beautiful photography carries a sense of nostalgia, and tells stories about a woman's longing to be different, young and free.
---