Grammer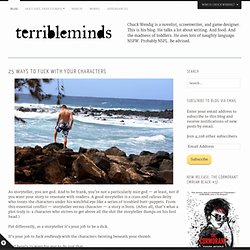 As storyteller, you are god. And to be frank, you're not a particularly nice god — at least, not if you want your story to resonate with readers. A good storyteller is a crass and callous deity who treats the characters under his watchful eye like a series of troubled butt-puppets.
Group Names For Animals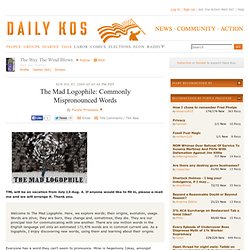 The following words are some of the hundreds that are commonly mispronounced (and a few uncommon ones). The preferred pronunciation is from Webster's Dictionary, so take it up with them if you disagree :D ►There is no such thing as an assessory, no matter what the salesperson tells you. Pronounce the double "c" in accessory like "ks." ► Acumen can be pronounced one of two ways: ak -yu-men or ak- yew -men. The former is the traditional one, however, reflecting its latin origin. ► Aegis , as in sponsorship or auspices, is pronounced ee -jis, not ay -jis.
The Mad Logophile: Commonly Mispronounced Words
by Mark Nichol Oh, what a tangled web we weave when first we practice to conceive written communication. So many pairs or trios of words and phrases stymie us with their resemblance to each other. Here's a quick guide to alleviate (or is it ameliorate?) your suffering: