Akimbo
Romney In Arbutus. Wednesday, March 21, 2012 Robert Lang and Associated Press More than 350 people packed into the Dewey Lowman American Legion Post in Arbutus Wednesday for a "town meeting" with Republican Presidential candidate Mitt Romney.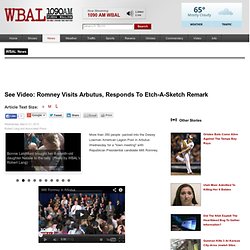 The candidate appeared with his Maryland campaign chairman, former Governor and Arbutus native Bob Ehrlich. Wheelock Flashcards. About | Inscape. Inscape is the inward quality of objects as they are perceived by the joined introspection of a poet, who in turn embodies them in unique poetic forms. — Gerard Manley Hopkins Inscape: A Journal of Literature and Art is run and produced by students of Brigham Young University, publishing creative writing and art twice a year.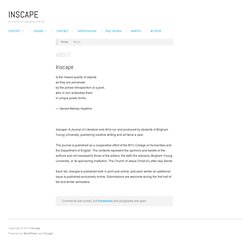 The journal is published as a cooperative effort of the BYU College of Humanities and the Department of English. Leading Edge Magazine Online. My Book List | mybooklist. Rent Textbooks. Buy Textbooks. Cheap Textbook Rentals for College.
Movies. Neat-o. Makes one think. Literature. Funny. Updated. Music. Art. Fashion.
---