Analyse
Un article de Wikipédia, l'encyclopédie libre. Sur les autres projets Wikimedia : prospective, sur le Wiktionnaire La prospective est la démarche qui vise, dans une perspective à la fois déterministe[réf. nécessaire] et holistique, à se préparer aujourd'hui à demain.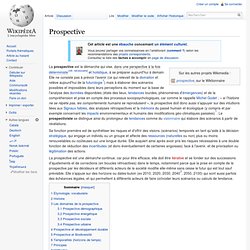 A un mois du sommet de Copenhague, qui a pour objet de donner un successeur au Protocole de Kyoto, de nombreux articles, ouvrages et rapports rapprochent changements climatiques et enjeux de sécurité (migrations environnementales, eau douce, catastrophes naturelles, production alimentaire…). Pour mettre en perspective ces travaux, sans doute est-il opportun de s'intéresser plus particulièrement aux tensions liées à la gestion de l'eau douce, qui ont suscité de nombreuses publications dès la fin des années 1980. Vingt ans d'études sur ce thème ont ainsi permis de dépasser la perspective de conflits ouverts pour le contrôle de la ressource. L'eau apparait sans surprise comme une source de tensions, mais dont l'origine et la réalité se révèlent avant tout être locales. Les « guerres de l'eau », dont le spectre est régulièrement porté dans les médias, s'incarnent dans des conflits entre usagers ou entre catégories d'usagers de la ressource.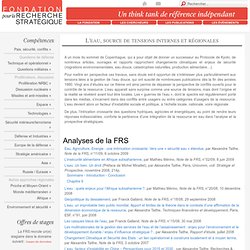 Fondation pour la recherche stratégique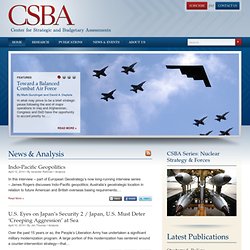 Center for Strategic and Budgetary Assessments | CSBA
How Iran, China and Afghanistan will Shape Future Defense December 22, 2013 • By Administrator • Analysis Todd Harrison joins an expert roundtable to discuss how Iran, China and Afghanistan will shape future US defense needs. Bipartisan Budget Deal Now but Debt Debate Later December 15, 2013 • By Administrator • Analysis Todd Harrison explains what the budget deal Congress passed in early December 2013 means for the Pentagon.
Centre for Analysis of Strategies and Technologies -
Maps of War ::: Visual History of War, Religion, and Government
Futurologie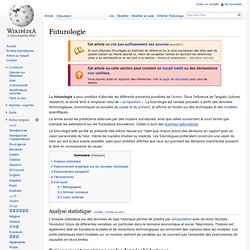 Un article de Wikipédia, l'encyclopédie libre. La futurologie a pour ambition d'aborder les différents scénarios possibles de l'avenir. Sous l'influence de l'anglais (futures research), le terme tend à remplacer celui de « prospective ». La futurologie est censée procéder à partir des données technologiques, économiques ou sociales du passé et du présent, et affirme se fonder sur des techniques et des modèles scientifiques.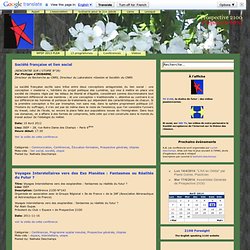 De l'eau pour tous les habitants de la planète Titre: DE L'EAU POUR TOUS LES HABITANTS DE LA PLANETELieu: ISEPDescription: Conférence 21OO N°145 : Organisée en association avec La Société Hydrotechnique de France (SHF) par René COULOMB, Président d'Honneur de la SHF, Membre de l'Académie de l'eau. Heure début: 17:30Date: 2011-12-01Heure fin: 19:45
Prospective 2100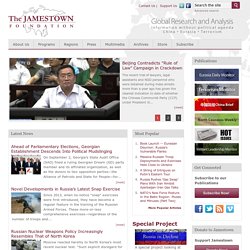 New Wave of Militarization in the Caspian On March 17, the Iranian navy launched a new Jamaran-2 destroyer in the Caspian Sea. The Iranian establishment, including President Mahmoud Ahmadinejad, Iranian Defense Minister Ahmad Vahidi and Chief of Staff of the Armed Forces... Category: Eurasia Daily Monitor, Home Page, Featured, Military/Security, The Caucasus, South Caucasus , Azerbaijan , Central Asia, Kazakhstan , Iran
The Jamestown Foundation
Réseau d'analyse et d'information sur l'actualité internationale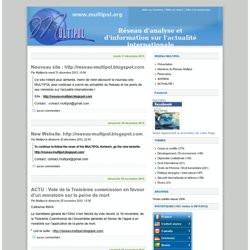 Catherine MAIA La Cour internationale de Justice, organe judiciaire principal de l'Organisation des Nations Unies, a rendu le 19 novembre 2012 son arrêt en l'affaire du Différend territorial et maritime (Nicaragua c. Colombie). Dans son arrêt, qui est définitif, sans recours et obligatoire pour les Parties, la Cour, 1) Dit, à l'unanimité, que la République de Colombie a la souveraineté sur les îles faisant partie des formations suivantes : Alburquerque, Bajo Nuevo, cayes de l'Est-Sud-Est, Quitasueño, Roncador, Serrana et Serranilla ;
Situation Report: Expert analysis, briefings and commentary from across the political spectrum. Preserving Ukraine's European Choice by Stephen Larrabee, 24 Dec -- "With tens of thousands defiant protestors marching in the streets of Kiev, the crisis in Ukraine continues to evolve with no clear resolution in sight. At stake are Ukraine's future political orientation and the balance of power in Central Europe. ..." Putin's Pardons by Olga Oliker, 23 Dec -- "There's an old Soviet-era joke about Vladimir Lenin, a play on all the stories of the kind, grandfatherly figure schoolchildren in the USSR heard endlessly. It goes like this: Lenin is shaving, when a small child approaches him. ..."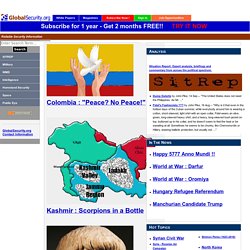 DRMCC