jQuery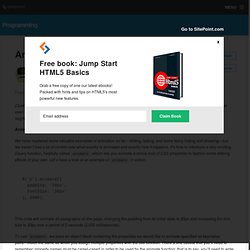 jQuery was built to animate.
Animating with jQuery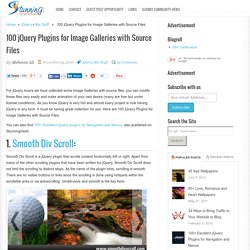 For jQuery lovers we have collected some Image Galleries with source files, you can modify these files very easily and make animation of your own desire (many are free but under license conditions). As you know jQuery is very hot and almost every project is now having jQuery in any form.
100 jQuery Plugins for Image Galleries with Source Files
In this second jQuery Plugins post,i've collected 30+ plugins which will be useful for web developers' projects.Today while i was searching for a plugin i decided to bring together all these plugins which i think will help you one day.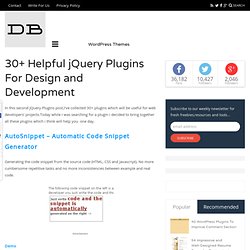 30+ Helpful jQuery Plugins For Design and Development
Gone are the days when every beautiful animation on a website was considered to be born out of Flash.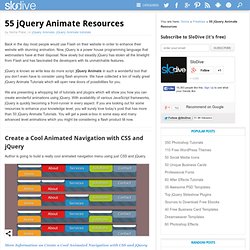 With the advent of JavaScript/web application libraries and frameworks, it's become much easier to build interactive components for a site.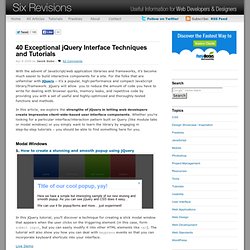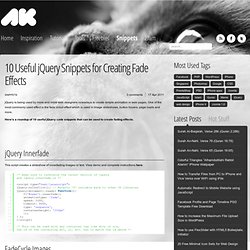 10 Useful jQuery Snippets for Creating Fade Effects - Azhar Kamar
Snippets 17 Apr 2011 3 comments
Cool navigation menu made with JQuery
Cool navigation menu made with JQuery | web enavu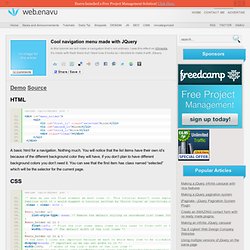 30 Tutorials and Plugins Jquery Scroll
jQuery Smooth Div Scroll by Thomas Kahn - smooth content scrolling using jQuery
jQuery Mobile Docs - Basic Lists
Selectors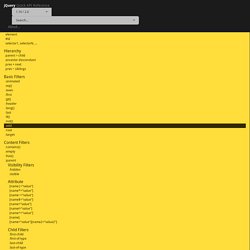 jQuery Style - A gallery showcasing awesome sites built with jQuery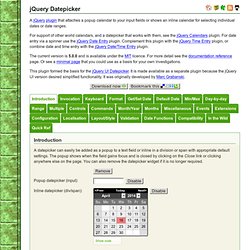 A datepicker can easily be added as a popup to a text field or inline in a division or span with appropriate default settings.
10 Jquery carousel slideshow plugin galerie photos | Autodidactique
Publié par Steven le 19 Février 2011 - 20:05 mis à jour le 23 Septembre 2011 - 22:21
What is jCarousel Lite? jCarousel Lite is a jQuery plugin that carries you on a carousel ride filled with images and HTML content. Put simply, you can navigate images and/or HTML in a carousel-style widget.
jCarousel Lite
jQuery is already very popular because it is very fast and concise Javacript library simplifing and different event handling, smooth animation with very little code.
Optimiser son code jQuery
As editor of Nettuts+, I get to review a lot of code from tutorial submissions. Despite the fact that jQuery has been available for years now, there is still one frequent mistake that I see more than anything else. Example #1
This article is mostly aimed at people who are just starting to learn jQuery.
7 Things I Wish I Had Known About jQuery