Venture capital
Wellington Partners Venture Capital
Interview of Bertin Nahum, CEO (starting at 3'24) close Tageos Movie Presentation Discover PAAS - 'Payment As A Service' Jobijoba offers a unique search engine for jobs, enriched by social content and big data tools. Founded by Thomas Allaire and based in Aquitaine, France, the company is active in France, Germany, Spain, UK, Belgium, Switzerland, Italy, Mexico and Australia.
Newfund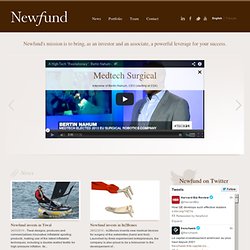 B ud Colligan focuses on software, digital media, education, and cloud computing investments at Accel Partners, which he joined in 1998. Bud sits on the board of directors of Yodlee and lynda.com and is an investor in and adviser to Days of Wonder, Wheelhouse and NextSpace. Bud was an Investor and Board Member at CNET Networks, acquired by CBS (NYSE: CBS); Brightmail, acquired by Symantec (NASDAQ: SYMC); and S3 Corporation, acquired by Via Technologies (TSE: 2388.tw). In 2013, Bud was honored as an Outstanding Director by the Silicon Valley Business Journal and San Francisco Business Times. Prior to Accel, Bud co-founded Macromedia in 1992 through a merger of Authorware and Macromind-Paracomp. Bud headed Authorware as President and CEO from 1989-92. Seedcamp is Recruiting – Come Join our Awesome Team As many of you know Seedcamp has been a very lean operation from the earliest of days. We were 1 person, growing to 2 for a few years, and then became 4 recently. We have accomplished an incredible amount in that time and our ambitions are to do so much more in London, Europe, … [Read More...] Final Days to Apply – Seedcamp Week London We have been meeting some great founders in the last couple of months at our Meet and Greets and in our Mini Seedcamps across Europe.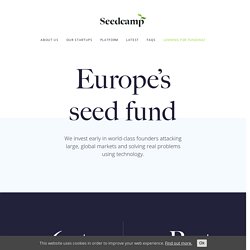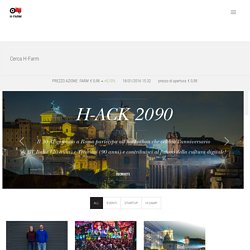 H-Farm
Venerdì 17 sarà una giornata d'eccezione in H-FARM. Due rinomati speaker internazionali, Gino Yu e Jong Lee, verranno dal lontano oriente per parlarci di imprenditorialità, psicologia e mercati asiatici. Alle 11 Gino Yu, Direttore del Digital Entertainment & Game Development Centre della Hong Kong Polytechnic University, presenterà l'intervento "Entrepreneurship & Self Discovery": frutto di una ricerca mirata allo studio delle relazioni tra consciusness studies e organizational management. Nel pomeriggio, dalle 16.30 in poi, Jong Lee, Managing Partner di RGL Holdings, ci parlerà invece della crescente influenza dei trend emergenti nei mercati asiatici sul business occidentale. Chi sono i due speaker?Gino Yu è sicuramente una persona dai mille impegni ed interessi.
I would like to announce that we have stopped accepting new startups into HackFwd three years, three months and three days after we first began supporting Europe's most passionate geeks. This also seems like a great opportunity to share the lessons that we have learned to date. I wish I could be pithy, but there's a bigger story worth telling.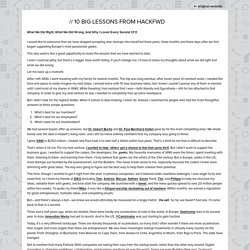 Hummingbird Ventures
Internet Attitude
Mangrove - Capital Partners