Sewing
just making 40 yards of bias tape over here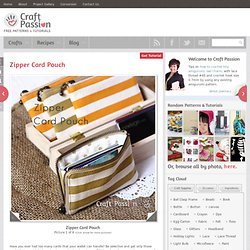 Have you ever had too many cards that your wallet can handle? Be selective and get only those cards that you might be using in a particular shopping mall but end up they were the wrong one? Or, may be just forgot to "update" the cards in the wallet on your next trip?
Gifting DIY: Hot Pads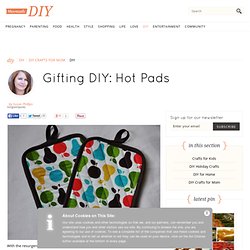 With the resurgence of handmade gifts this year, why not make these easy hot pads! They are a snap to sew up and the fabric combinations are endless. 1/2 yard of top fabric 1/2 yard bottom fabric 1/2 yard Insulbright 2 packages extra wide double fold bias tape Layer the pieces sandwiched together as they would be sewn. Bottom fabric wrong side up, 2 layers of Insulbright, and top fabric right side up Cut out your rough piece of 8.5: wide by 11″ long
Next up in the Tips + Tricks series is the easy roll hem.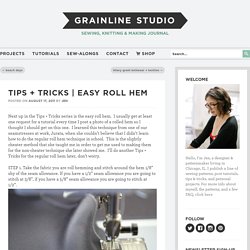 Last year I was at a picnic organized by my parents. My stepmother, who has a linen for every occasion, had a beautiful embroidered lace and linen cloth draped over the mouth of the lemonade pitcher. It had a strand of small crystals sewn to each corner to help weigh it down and keep it in place. Someone commented that it would be nice to have one for all the bowls too, to keep the bugs and tree debris off the food. Lightbulb moment!
Alfresco Bowl Covers Tutorial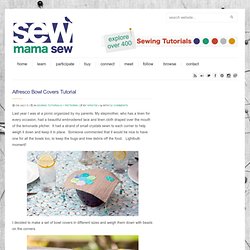 Anna of Noodlehead is sharing the most beautiful gathered pouch tutorial.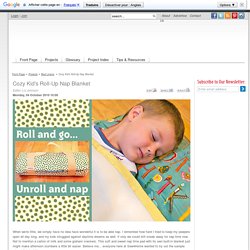 Cozy Kid's Roll-Up Nap Blanket - Sew4Home
When we're little, we simply have no idea have wonderful it is to be able nap.
How To: Make a Hanging Book Display Megan's February Jumpstart Project 2009
Title: Hanging Book Display Name: Megan Time: 1-4 hours, depending on how handy you are with a sewing machine and tools Cost: $5-10 for fabric, $13 for hardware/dowels.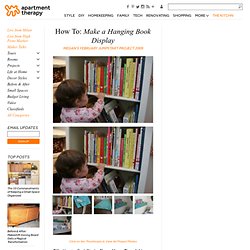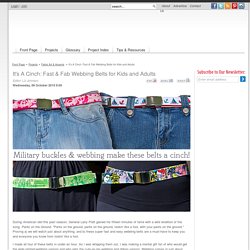 It's A Cinch: Fast & Fab Webbing Belts for Kids and Adults
During this past season, General Larry Platt gained his fifteen minutes of fame with a wild rendition of the song, .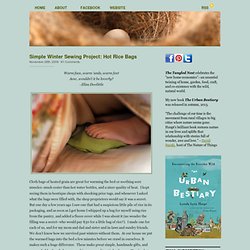 Warm face, warm 'ands, warm feet Aow, wouldn't it be loverly?