DIY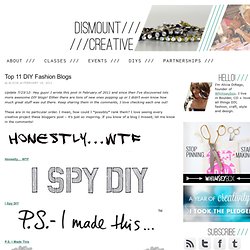 Update 7/23/12: Hey guys! I wrote this post in February of 2011 and since then I've discovered lots more awesome DIY blogs! Either there are tons of new ones popping up or I didn't even know how much great stuff was out there.
Kendin Yap - Do It Yourself (DIY) - TurkeyForum Community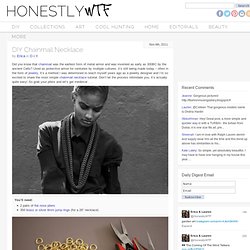 You'll need: Start by separating the jump rings into two halves: 175 open and 175 closed. Thread three closed jump rings onto an open jump ring.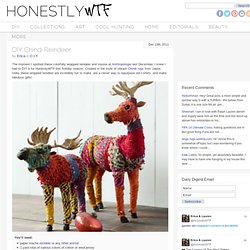 The moment I spotted these colorfully wrapped reindeer and moose at Anthropologie last December, I knew I had to DIY it for HonestlyWTF this holiday season. Created in the style of vibrant Chindi rugs from Jaipur, India, these wrapped reindeer are incredibly fun to make, are a clever way to repurpose old t-shirts, and make fabulous gifts! You'll need:paper mache reindeer or any other animal1 yard total of various colors of cotton or wool jersey2 small brown pom pomshot glue gunlots of glue sticksscissorsjingle bells (optional)string (optional) Start by cutting the fabric, along the width, into 1″ strips. For a medium sized paper mache object, 26-30 strips should suffice.
Make your own: Designer clothes and accessories | Life and style
The DIY Clothes Pool
When you make your own clothing and accessories, your style is truly like no other. DIY fashion is often quite easy to accomplish, and the satisfaction of saying 'I made it!' is priceless. Start with some easy projects and advice. DIY style can happen in a matter of minutes. Shirts and Tops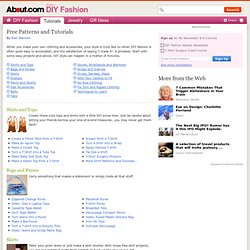 post + graphic design: Nora Curlee This is the time of year where people are poppin' corks left and right! Between holiday brunches, work parties and the New Year's festivities, bubbly is flowing. We definitely aren't complaining…instead we are inspired! So we raise a glass and toast to some of our favorite champagne inspired beauty bits. Cheers lovelies!
obsessions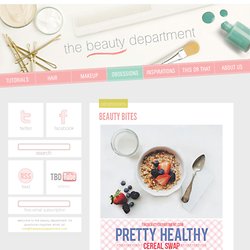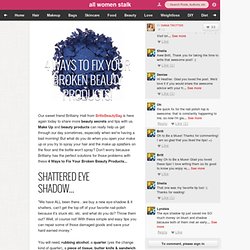 Kırık Güzellik Ürünleri düzeltmek için 4 alışkanlıklar!
Our sweet friend Brittainy Hall from BrittsBeautyBag is here again today to share more beauty secrets and tips with us. Make Up and beauty products can really help us get through our day sometimes, especially when we're having a bad morning! But what do you do when you open your make up or you try to spray your hair and the make up splatters on the floor and the bottle won't spray? Don't worry because Brittainy has the perfect solutions for those problems with these 4 Ways to Fix Your Broken Beauty Products...
BlogHer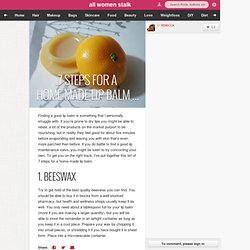 Finding a good lip balm is something that I personally struggle with. If you're prone to dry lips you might be able to relate; a lot of the products on the market purport to be nourishing, but in reality they feel good for about five minutes before evaporating and leaving you with skin that's even more parched than before. If you do battle to find a good lip maintenance salve, you might be keen to try concocting your own.
7 Steps for a Home-Made Lip Balm …
Did you know you can transfer photos to fabric without using iron-on sheets? I love this technique. It's simple to execute and the end results are really pretty. It's another method for hand printing! I made some fabrics the other day and used them to add pockets to one of my wool skirts. Do you want to learn to transfer photos to fabric?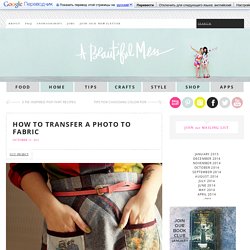 Kinsey and I came up with a super sweet idea for restyling a vintage cardigan! You can make it into a cute jumper. This piece is great for winter layering with ruffle blouses, tights, boots and scarves! Enjoy... Step 1. We took a cardigan and cut it off right under the sleeves.