A lire
Here's a glorious bit of design nostalgia for the New Year. It's hardly a new find on the web; designer Nick Job first started this archive of the British Rail identity manuals in 2011, but I've just been reminded of it. Somehow I've never written about it either, which is a bit of an oversight given the entirely-unofficial and tongue in cheek name of this site: the British Rail alphabet and signage guidelines were also used by the British Airports Authority and National Health Service, making them as much a government standard as Britain ever usually manages. The alphabet had two variants, one for dark-on-light type and one for light-on-dark. Light (and illuminated) type on dark backgrounds creates an optical effect known as 'halation' - i.e. it develops a halo, a slight sense of the letterforms being thicker than they are.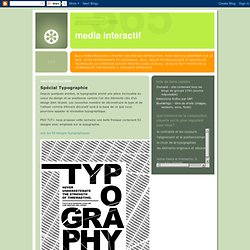 Spécial Typographie
Depuis quelques années, la typographie prend une place incroyable au coeur du design et se positionne comme l'un des éléments clés d'un design bien réussit. Les nouvelles manière de déconstruire la typo et de l'utiliser comme élément décoratif sont à la base de ce que nous pourrions appeler la révolution typographique. PSD TUT+ nous propose cette semaine une belle fresque contenant 53 designs avec emphase sur la typographie. voir les 53 designs typographiques
Nous arrivons désormais à la moitié de notre dossier sur la typographie ! Cette semaine découvrez comment créer sa propre police à l'aide de nos conseils et également où trouver des fonts libres et contemporaines sur le web, avec une s&eacu Je vais vous montrer la méthode que j'utilise pour créer des typographies, bien entendu je ne suis pas typographe loin de là, c'est seulement en tant que conseiller que je vais expliquer mon travail. Pour créer une police complète et fonctionnelle cela demande beaucoup de techniques et de savoir faire dans ce domaine. Pour commencer, j'utilise le logiciel d'Illustrator qui me permet de créer des formes vectorielles et ainsi jouer avec les lettres et les tracés autant que je le désir. La création d'une typographie vient pour répondre à un besoin, créer une identité pour une marque, personnaliser un visuel graphique, exprimer des valeurs, etc.