Akaiser
Big Dick Gloryholes#8 - Veronic
Best American Beers
first image 'potholes' by claudia ficca, davide luciano all images courtesy claudia ficca, davide luciano (above) 'baywatch' on almafi drive, los angeles image © claudia ficca, davide luciano
claudia ficca + davide luciano: potholes
Bio Your bio is currently empty. Now is a great time to fill in your profile . This profile is private. This profile is only shared with friends.
Top 100 Hotels & Resorts in the World: 2011 Readers' Choice Awards from Condé Nast Traveler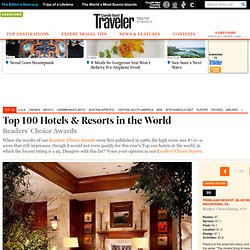 The North Face Manteau Evolution Tri | A.S.Adventure
Any fan of this site knows that the core of our mission statement is "Nature is terrifying and you should only leave the house if it's an emergency." But in the course of our relentless examination of horrifying insects and vicious predators, we have to say that consistently all of them pale in comparison to the stuff that lives in the water. The ocean is the earth's last frontier, and just as we always suspected, it's full of sea monsters. Like ... #10.
10 Real Sea Creatures Lifted Directly from Your Nightmares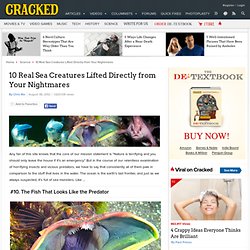 The Great Outdoors
Top 10 Backpacking Meals « Food « Seattle Backpackers Magazine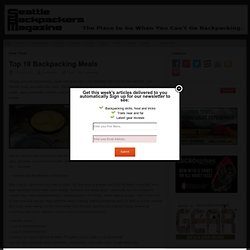 Making your own backpacking meals can be an easy, cost effective way to enjoy the outdoors, your favorite foods, and learn new skills. The main challenge that overwhelms some backpackers is balancing weight, easy preparation, nutrition, and perish-ability with great taste. Discover 10 favorite backpacking recipes. A few years back after getting tired of eating expensive prepackaged meals on the trail my wife and I decided to start experimenting with making our own. Making your own meals can be an easy cost effective way to enjoy the outdoors, you're favorite foods, and learn new skills. The main challenge that overwhelms some backpackers is balancing weight, easy preparation, nutrition, and perish-ability with great taste.
natural-scenery-7.jpg (Image JPEG, 1600x1168 pixels) - Redimensionnée (73%)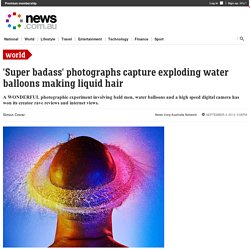 'Super badass' photographs capture exploding water balloons making liquid hair
Water Wigs wow: photographer Tim Tadder spent hours working out how to capture water balloons milliseconds after impact. Source: Supplied Water Wigs wow: a halo effect, captured by photographer Tim Tadder. Source: Supplied Water Wigs wow: capturing the impact of these super long balloons was very tricky. "They were so thin, they were really different to handle, and often popped before we got the shot".
Koalas to the Max dot Com
Preachers Rock, Preikestolen, Norway Blue Caves - Zakynthos Island, Greece Skaftafeli - Iceland Plitvice Lakes – Croatia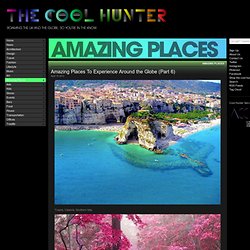 Amazing Places
Materials
The most Striking Tourist Places | Travel Star - Photos, Places, Culture
The World's 15 Most Amazing Roads
Hairpin Turns, Breathtaking Scenery They wind through mountain passes, across deserts and even over stretches of ocean. Some were built on top of centuries-old footpaths carved into hillsides, while others connect cities and countries across spans that previously had been impassable.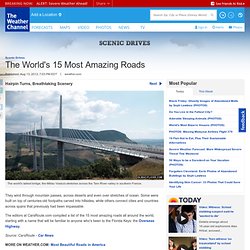 Landscape Photography That Define Brilliance
To sit in the shade on a fine day, and look upon verdure is the most perfect refreshment.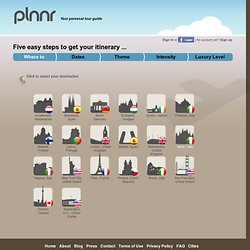 Select the destination for your trip - Plnnr.com
Sign in or | No account yet? Sign up
The Gravity of Illusion: Dyson's Mysterious Garden Fountain
A simple water feature can take an ordinary deck and turn it into something magnificent. But a water feature fashioned by celebrated industrial designer James Dyson (of Dyson vacuums fame) is bound to be the most unforgettable water feature ever. This fountain, part of an overall garden design dubbed " The Wrong Garden ," was created by Dyson for the Royal Horticultural Society's 2003 Chelsea Flower Show.
Stefano Unterthiner Photography : Animals Face to Face
9 of the Coolest Secret Subway Stations in the World
If you're anything like us, you're fascinated by the secret worlds of underground transportation. What goes on in abandoned subway stations? Do mole people exist? Have we been approaching Platform 9¾ at the wrong angle? A couple months ago, we brought you a collection of beautiful abandoned train stations from all over the world . Now, we're going underground to bring you the bizarre stories behind some of the world's coolest and eeriest abandoned subways.
Creative Business Cards « Our Daily Design
In need of a new business card? We found this really cool site that showed plenty of examples of some unique, creative business cards. These guys really take their business cards to the next level! Now-a-days the competition is high, so every bit of creativity counts. Check them out and get inspired! Media Bakery has millions of images.
TetraBox Light by Ed Chew
Liquid to Light Designer Ed Chew takes a green step in the right direction with the TetraBox lamp, a light object made from discarded drink packets that would have otherwise ended up in landfills already packed to the brim. The design is achieved by unfolding the packets and refolding them into hexagonal and pentagonal sections that are then pieced together to form a geodesic sphere or any other desired shape.
Wind Map
Southern Iceland | SFGPhotography
aging 1970's and 80's horror villains
Pangong Lake by GiMiO
Photography School on Vimeo
TYPOE_CONFETTI-DEATH_1_900px.jpg (Image JPEG, 900x603 pixels)
See-through church, Limburg/Belgium by Gijs Van Vaerenbergh
Silent World by Michael Kenna
Tree photos, tree leaves photos, flowering tree photos., Dragon tree - photos, Dracaena draco
Transparent Screens : un album sur Flickr
gregory euclide: microcosmic world made from park trash
The Ruins of Detroit – - PlogPlog Photo Blog
10 Lesser Known Natural Wonders Video
The Dark Tower by Skarphedinn Thrainsson
BEST of BTS | photography by Angus R Shamal
7 of the World's Craziest Roads
The Big To-Do SF: 100 Things To Do Before You Die
Relaxation by keller
Bento Laptop Tablet Hybrid by René Woo-Ram Lee
More Imaginative Package Designs - DESIGN
Creative Architecture Ideas
Mountaintop monastery in the mist, Kalambaka, Greece
Article: 15 Cool And Creative Umbrellas : The Dot Creative : Graphic Design Blog
Ben Colclough: Kilimanjaro: 5 Things They Don't Tell You
BACK TO THE FUTURE : Irina Werning
Gear : Design Magazine
20 Awesome Products And Design Ideas
ROAD-TRIPPING IN THE ARCTIC CIRCLE
hope you're not too tired to read this… | clayzmama says……
4.jpg (Image JPEG, 800x533 pixels)
MIT soft rocker - solar powered sun lounger
Survey question 3 · Hipstery.com - Home of the famous mystery t-shirt
Skittles Vodka Tutorial
10 of the Biggest Lies in History"
Bodum Coffee & Tea Maker by Sunny Ting Wai Wong
Europe's Top 25 Castles – The Best Castles in Europe
Day and Night in New York City Captured in Single Images [8 Pictures]
How to make roses from maple leaves
Magie d'Asie !!!
Day 1 - Shelter From The Storm
Badass Bridge of the Day
Scribd
cagliari en[1]
Dangerous Underwater Volcanoes
Bizarre Websites On Which You Can Kill Time With Style
Most Interesting Bookstores of the World
Most Interesting Libraries of the World
Metropol Parasol // The World's Largest Wooden Structure
30 Bizarre and Creative Packaging Design Examples
Photographer Martin Schoeller
10 Best Cities for Music Lovers
Street Art | Photography & Design & Inspiration
20-%20antoine%20dansaert%2019%20-%20conveyor%20belt%20high%20way%20700
Instantanés
The United States of GOOD Beer
ThisIsWhyImBroke is where you'll find cool gift ideas, unique products, and awesome birthday and christmas gift ideas. With hundreds of reasons to spend every penny you've got, ThisIsWhyImBroke features amazing products you can buy on the web.
What is Rolltop?
9 volt secret taser
21 Innovative Inventions
10 Weird and Mysterious Places on Earth
22 Incredible Photos of Faraway Places
50 of the World's Best Breakfasts from Around the World
A stunning time-lapse of Iceland's nightless summer
The Ultimate Travel Hacking Guide
Your trip to London - Plnnr
100 Incredible Views Out Of Airplane Windows
Spectacular and See-Through: Dude, Where's My Canoe?
Simon Tong Photography
OnTheWay ― A better way to get there