Appetizers and Sides
Classic Cheesy Chicken and Rice Soup. 3 tablespoons extra virgin olive oil 1 large onion, finely chopped 4 stalks of celery, chopped 3 large carrots, peeled and chopped 2 tablespoons minced garlic 1 stick (8 tablespoons) unsalted butter.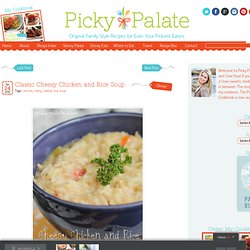 The Famous "Crack Dip" I had heard of this dip about a thousand times – originally called Buffalo Chicken Dip, it's been nicknamed "crack dip" because its supposedly quite addicting.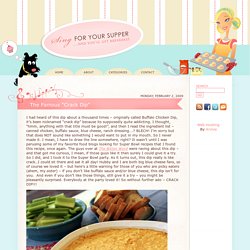 I thought, "hmm, anything with that title must be good!" , and then I read the ingredient list – canned chicken, buffalo sauce, blue cheese, ranch dressing….? BLECH! I'm sorry but that does NOT sound like something I would want to put in my mouth. Hot Spinach and Artichoke Dip. It seems that I may be a little addicted to hot cheesy dips.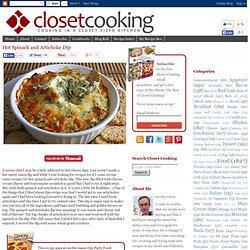 Last week I made a hot sweet onion dip and while I was looking for recipes for it I came across some recipes for hot spinach and artichoke dip. This new dip filled with cheese, cream cheese and mayonnaise sounded so good that I had to try it right away. But, with both spinach and artichokes in it, it is just a little bit healthier. ;) One of the things that I liked about this recipe was that I would get to use artichokes again and I had been looking forward to doing so. The last time I used fresh artichokes and this time I got to try canned ones. Salsa roja (roasted red salsa) « One Particular Kitchen.
I eat a lot of salsa.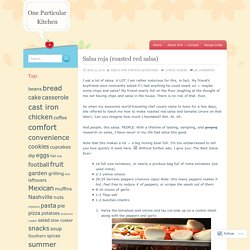 A LOT. I am rather notorious for this, in fact. My friend's boyfriend once innocently asked if I had anything he could snack on — maybe some chips and salsa? My friend nearly fell on the floor laughing at the thought of me not having chips and salsa in the house. There is no risk of that. Yummy recipes / White Trash Dip  1 can chili (15 oz) 2 packages cream cheese (8 oz ea), softened 2 cups cheddar cheese, shredded 1 lb. bacon 4 green onions, chopped 1 tsp red pepper flakes Heat oven to 350 degrees. Cook bacon. Crumble. Mix together chili. Crispy Parmesan Asparagus Sticks. Who would have ever thought I would get excited about seeing something green on sale in the grocery store?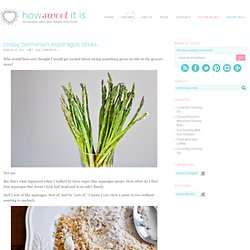 Not me. But that's what happened when I walked by these super thin asparagus spears.
---