Moteur de recherche d'images
B.I.L. (Banque d'Images Libres) B.I.L. est un projet du Service national du RÉCIT MST.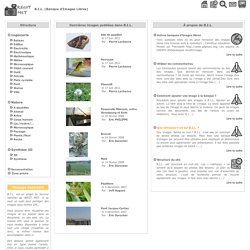 Il se veut un outil pour partager des images sous licence GPL. Vous pouvez donc récupérer ces images et les insérer dans un document, un site web, etc. La licence GPL vous le permet. BIPS : banque d'images pédagogiques à télécharger gratuitement. Carrefour éducation. Bienvenue sur Flickr – Partage de photos. Free photos and vectors to download | Freepik. Pictures. National Geographic Stock Photography - The World's Best Stock Photos. Online. Pixolu - find what you imagine.
---