2try
Free. Asap. 4ajem. 4annette. Security. Hack. Autoit. Poweruser. Seam. Web2. 3d. Give your résumé a face lift. After avoiding the 7 deadly sins of résumé design, you may be asking, "If I can't use crazy colors, clip art, and other types of decoration, how do I make my résumé stand out from the crowd?"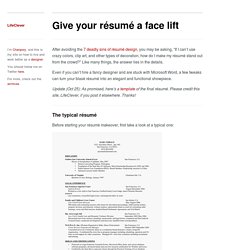 Like many things, the answer lies in the details. Even if you can't hire a fancy designer and are stuck with Microsoft Word, a few tweaks can turn your blasé résumé into an elegant and functional showpiece. Update (Oct 25): As promised, here's a template of the final résumé. Van Eck phreaking. In 1985, Wim van Eck published a paper which described how the state of a CRT monitor could be reproduced remotely based on the device's electromagnetic radiation.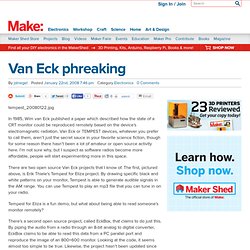 Van Eck or TEMPEST devices, whatever you prefer to call them, aren't just the secret sauce in your favorite science fiction, though for some reason there hasn't been a lot of amateur or open source activity here. I'm not sure why, but I suspect as software radios become more affordable, people will start experimenting more in this space. There are two open source Van Eck projects that I know of. Feedly - A New Firefox Start Page Addon You Can't Afford To Miss | MakeUseOf.com. Here on Make Use Of, we've talked about start pages several times before, and we're doing it again now.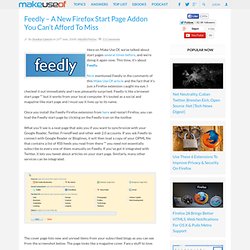 This time, it's about Feedly. Nick mentioned Feedly in the comments of this Make Use Of article and the fact that it's just a Firefox extension caught my eye. I checked it out immediately and I was pleasantly surprised. Synergy. Confessions of a Caller-ID spoofer | NetworkWorld.com Community. <a href =" >surveys</a> - <a href =" >Take Our Poll</a> He spoofed the HR director's work phone number, then the number of that guy's boss, before moving up to a vice president, and finally, the CEO.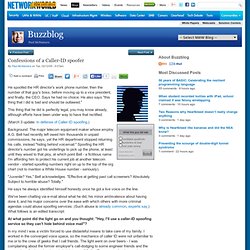 Says he had no choice. How to Create a Thumbnail Blogroll, a 20-minute hack.
---