Objectivity in Journalism
The Myth of Objectivity in Journalism. By This page has been accessed since 29 May 1996.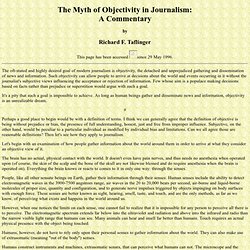 The oft-stated and highly desired goal of modern journalism is objectivity, the detached and unprejudiced gathering and dissemination of news and information. Whoops! In 2008, talk show host Sean Hannity declared, "Journalism (the unbiased reporting of the facts) in America is Dead."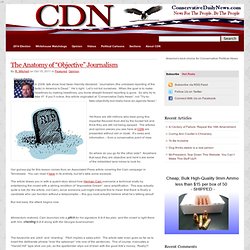 He's right. Let's not kid ourselves. When the goal is to make headlines by making headlines, you know straight forward reporting is gone. Principles of Journalism. The first three years of the Project's work involved listening and talking with journalists and others around the country about what defines the work.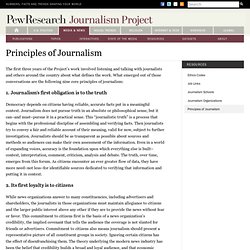 What emerged out of those conversations are the following nine core principles of journalism: 1. Journalism's first obligation is to the truth. Rethinking Objective Journalism | Media. July 8, 2003 | Like this article?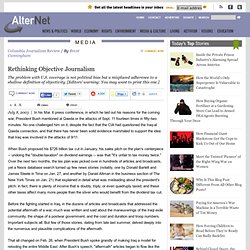 Join our email list: Stay up to date with the latest headlines via email. In his Mar. 6 press conference, in which he laid out his reasons for the coming war, President Bush mentioned al Qaeda or the attacks of Sept. 11 fourteen times in fifty-two minutes. No one challenged him on it, despite the fact that the CIA had questioned the Iraq-al Qaeda connection, and that there has never been solid evidence marshaled to support the idea that Iraq was involved in the attacks of 9/11.
Questioning Journalistic Objectivity. Journalism, as we've known it, has been mourned deeply over the last few years.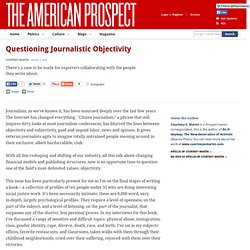 The Internet has changed everything. "Citizen journalism," a phrase that still inspires dirty looks at most journalism conferences, has blurred the lines between objectivity and subjectivity, paid and unpaid labor, news and opinion. It gives veteran journalists agita to imagine totally untrained people messing around in their exclusive, albeit hardscrabble, club.
Public Journalism and the Problem of Objectivity. Objectivity in Journalism. DAVID BROOKS There is some dispute about whether objectivity can really exist.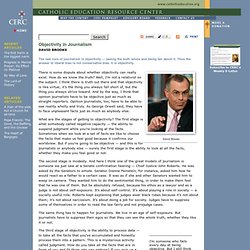 How do we know the truth? Well, I'm not a relativist on the subject. I think there is truth out there and that objectivity is like virtue; it's the thing you always fall short of, but the thing you always strive toward. And by the way, I think that opinion journalists have to be objective just as much as straight reporters. Opinion journalists, too, have to be able to see reality wholly and truly. Journalistic Objectivity: "Getting the Best Obtainable Version of the Truth" Text of Speech at the Indymedia Conference – Nov. 13, 2010 Objectivity does not exist, in journalism or in any other sphere.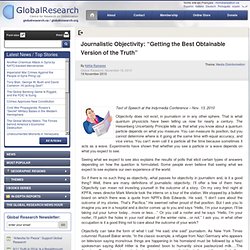 That is what quantum physicists have been telling us now for nearly a century. The Heisenberg Uncertainty Principle tells us that what you know about a quantum particle depends on what you measure. You can measure its position, but you cannot determine where is it going at the same time with equal accuracy, and vice versa.
---