DIY
WobiSobi. DIY Bags, Totes, Purses. Beautiful and Unique Home Décor DIY – Install Invisible Bookshelves. If you have a load of books or other knick-knacks that you want to hang but you don't want to have a lot of shelves around your house, why not install these neat invisible shelves instead.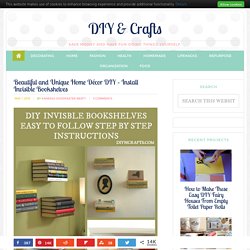 These are very cool and the video tutorial tells you how to make them perfect for your home. Once you get them filled with books, it will actually look like the books are just floating on the wall. The Perfect Gift: Yarn Ball Bookmark. Created by Jane from See Jane Blog .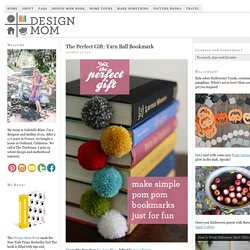 Edited by Amy Christie. Has the weather turned cold where you live? In my neighborhood, temperatures have dropped and my instincts are to spend the day cozied up with a favorite book and favorite mug full of hot cocoa. Are you the same? Accessories and Gifts. Favorite Projects. How To Updo: The Sock Bun | Hair styles : hair trends : haircuts for women : mybestfriendshair.com. How to make gift bags from newspaper. When I bought something at a store recently, the clerk handed me my purchase in a bag made from a newspaper.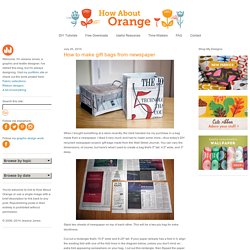 I liked it very much and had to make some more—thus today's DIY recycled newspaper project: gift bags made from the Wall Street Journal. You can vary the dimensions, of course, but here's what I used to create a bag that's 5" tall, 4.5" wide, and 3" deep. Stack two sheets of newspaper on top of each other. This will be a two-ply bag for extra sturdiness. DIY: Recycled T-Shirt Tote Bag. Say YES! to hoboken: DIY Purple Striped Market Tote. Last year I made a striped beach tote and this year I found some perfect purple striped canvas weight fabric at my local fabric outlet for only $4 a yard and knew I wanted to make another version.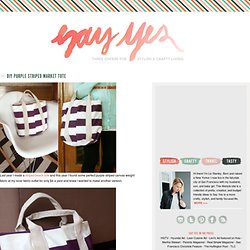 Would you like to learn how to make one too? Okay! Travel Accessories: Plenty of Pockets Tote. Our Travel Accessories series is sponsored by Free Spirit Fabrics , as part of our introducing Anna Maria Horner 's beautiful new Loulouthi fabric collection.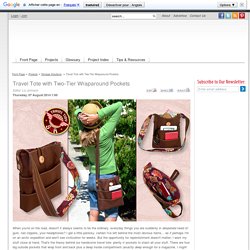 Today's project is also sponsored in part by Fat Quarter Shop , who provided the featured Loulouthi print and Fabric.com , who provided the rich 100% cotton twill . Both sites have great selections in stock and ready to ship. We recommend using a twin or double needle to do the decorative stitching on this project. Carabiner Keychain Mod: Stop dropping your keys. I used to keep my keys on a standard carabiner, which I could clip to my belt loop.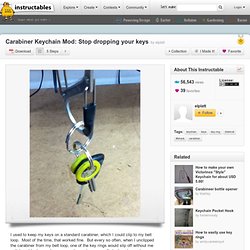 Most of the time, that worked fine. But every so often, when I unclipped the carabiner from my belt loop, one of the key rings would slip off without me noticing. I had spare keys, so such events were really just a minor nuisance. Then, I got a car with an (exorbitantly priced) keyless entry remote. Easy DIY transforming purse-backpack. If you are anything like me, you're tired of buying stuff and using it for a few months at which point it falls apart and you need to buy a new one.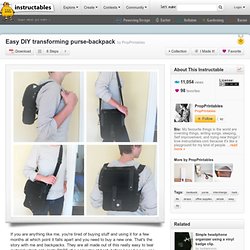 That's the story with me and backpacks. They are all made out of this really easy to tear material which only lasts PART of a semester at best, before I need a new one. I've come to realize purses are made to carry small stuff but are limited as far as long journeys, whereas backpacks are made for long distances, but tear apart easy, so I thought why not combine the two? I take this backpack / purse hiking with me all the time and its lasted much longer than any of my backpacks, so I thought I'd show you how to make one! How to make nail polish. This instructable will teach you how to make your own nail polish colors using eyeshadow and glitter.
It's an excellent way to get custom nail polish colors you couldn't get otherwise. And I love the way this nail polish goes on and the way it dries - it's much more matte and shimmery than regular nail polish. Plus, making your own nail polish is very cheap and fast - so why not give it a try? P.S. Know there are lots of tutorials on how to make your own nail polish floating around online, but I really wanted to give it a try.
---